Vintage Children's Chairs: 10 Online Sources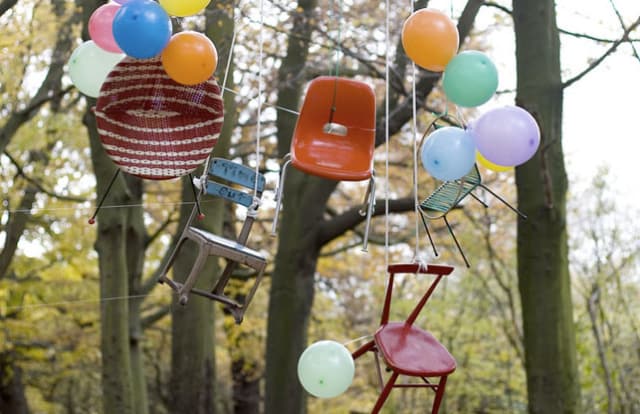 Child-sized versions of iconic chairs appeal to parents, but more importantly, they provide kids with a seat that's scaled to their proportions. Good vintage children's chairs can be hard to find, so we scouted out 10 options that would work well paired with a small desk or table, or just hanging out on their own in a reading corner. Check out this updated list of vintage chairs for kids from around the web.
Online Shops in the U.S.
Three Potato Four
Janet Morales and Stu Eli, the proprietors of this online shop, have a great eye for vintage pieces. Their inventory sells quickly and rotates frequently, but they usually have a few child's chairs for sale. This Early 20th Century Auditorium Chair is currently listed for $250.
Ruby Lane
They're an an aggregator site that posts antiques from over 2,000 sellers, and their focus is on traditional, "Antiques Roadshow" style stuff for a wide range of prices. This 19th Century Child's Slat-Back Chair is listed online for $195.
Etsy
They're a great resource for childrens' chairs — when I was compiling this post, I found the most options by far at Etsy. This purple vintage school chair ($19.50) is currently listed with Nebraska-based seller moxiethrift.
VandM.com
This antique aggregator site has an eclectic mix of traditional and modern, as well as high and low items. This Pair of handcrafted children's chairs is a rustic option for kids — it sells for $400.
eBay
Always a good resource when you're looking for something very specific, eBay usually has quite a few child's chairs online. I found quite a few mid-century styles, including a couple versions of this pair of red plastic chairs, up for auction.
Modern50 Vintage Industrial
This online store carries a well curated (and higher priced) collection of modern and industrial furniture. Last time I checked, they had a couple of furnishings for little ones, including this Eames MKS-1 Child's Chair, $495.
Craigslist
An old standby, craigslist is worth sifting through when you're looking for a really good deal on vintage children's furniture. Because families are always growing out of their nursery furnishings, there's a constant supply in most cities.
1st Dibs
If you're looking for some really glam, brand-name designer vintage pieces for your kids, and you're willing to pay top-condition prices, check out this antiques aggregator site. This Pair of Bertoia Child's Chairs is currently listed there for $550.
Online Shops Outside the U.S.
Bianca and Family
Based in France, this web shop sells a mix of vintage and new pieces for children, and they've got the French flea market look nailed down. This Child's Desk and Chair (price on request) is especially adorable.
Molly-Meg
If you live in the UK, you're in luck! This British website has a great selection of children's furniture (those are their chairs in the main pic above). Their specialty is 1950s-style chairs — this Ercol 1960's classic children's stacking chair is currently listed for £68.
Photos shown above are examples of a store's inventory and may not be currently available online. For the full spectrum of vintage and vintage-style online dealers listed on Marketplace, click here.

RELATED RESOURCES
• Vintage Online Furniture Stores

Main Photo: Molly-Meg | Design for Children