Vintage Mid-Century Highboys for Every Budget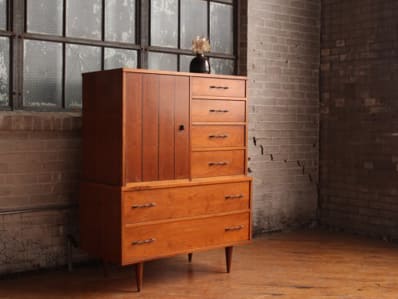 With a new year upon us, most people are looking to get their lives downsized and organized. And if you're anything like me, chances are your clothing (and bedroom storage in general) are going to be a big priority. So while checking the Apartment Therapy Marketplace for the best new deals of the week, I stumbled upon our solution to this universal problem: the highboy.
If clean design and optimal storage had a baby, it would be the highboy. Add in the insanely popular elements of classic Mid-Century modern design, and we're talking a must-buy for your newly organized bedroom.
I've rounded up three recently-listed highboys in each price range so that everyone has the chance to turn their bedroom into a sanctuary (without sacrificing their bank account). And isn't that the key to a successful year?
LOW
Sometimes the simplest option is the best! You get clean lines, beautiful dark wood grain AND plenty of storage space for a price that's hard to beat.
MEDIUM
The details in this Broyhill highboy were what drew me in right away. Hard to say no to a dresser that adds that much character to your room (aside from the wonderful storage potential).
HIGH
And lastly, we have this beauty! The shape and design are unique to most of the other highboys I've seen, and the combination of drawer and cabinet storage means that everything you need to organize will find it's perfect place inside.
And if you still haven't found your dream highboy from these three choices, check out the rest of the selection on the Apartment Therapy Marketplace.