Vintage Modern Apartment: Get the Look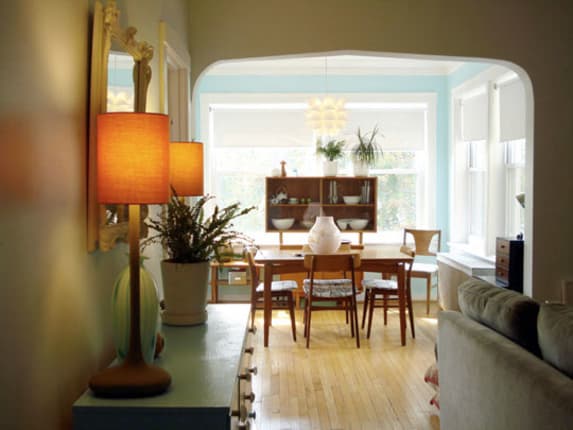 Amy's house tour is one of Apartment Therapy's all-time most popular features, probably for its wealth of accessible ideas. Her home combines vintage pieces, well-chosen paint colors, and smart accessories into a look that's personal and down-to-earth. Here are a few tips on achieving a similar style at home.
Set the Tone with Paint
Amy's home uses paint to dress up the walls and furniture. She updated her living room dresser with a fresh coat of blue paint, the dining room feels airy in sky blue, and her use of off-white throughout the rest of her home sets off her colorful furniture and accessories.
Benjamin Moore
They have two 'virtually odorless' lines of non-toxic paint: Aura (low-VOC) and Natura (no-VOC), both available in almost any of their color collections. For a similar color, try Blue Diamond 736, a pale blue with a hint of green from the Classic Color collection.
Mythic Paint
This paint company specializes in latex paints that are VOC-free. Although they have fewer color choices than a bigger company like Benjamin Moore, their selection is still pretty extensive, and they can match any color on request. For a similar off-white to the one in Amy's place, we'd try Helios OW-7-2 (shown left).
Olympic Premium Paint
Their "Premium Interior" line is VOC-free, and you can buy their paints at Lowe's. Souvenir C54-2 is a nice ocean blue that would work well if you're looking to update an old piece of furniture in a bright, deep color.
Shop Vintage
A large portion of Amy's furniture is vintage — a combination of family hand-me-downs, painted pieces, and thrift store finds. For similar Danish Modern dining room furniture, check flea markets, thrift shops, and antique stores.
eBay
A quick search for "Danish Modern Dining Set" turned up several options on eBay, including a Set of 4 Rosewood Danish Modern Dining Chairs (photo shown left). It also helps to keep an eye out on craigslist for similar pieces.
VandM.com
This site aggregates a bunch of vintage dealers into one searchable web page. We found lots of sideboards similar to the one in Amy's dining room, including this 1970s Teak Credenza for $1,295. Search for "teak sideboard" or "teak credenza" to turn up similar results.
Pieces
This Atlanta-based antique store has a well curated website with unique vintage pieces, like this Pair of Cork Lamps for $1,1995. Prices and quality are on the high end, but even if you're on a budget, the site's worth checking out for ideas and inspiration.
Repurpose and Accessorize
Amy furnished her apartment on a budget, with accessories from Chinatown shops, IKEA, thrift stores, and even the dollar store. Here are some similar finds and ideas.
IKEA
The large-scale vase in the center of the table anchors Amy's dining room. It's the PS Jonsberg Vase by Hella Jongerius, available for $40. To read about how it's made, click here.
eBay
If you don't have an IKEA near you, or you'd like to try a greener alternative, search craigslist or eBay for used IKEA items, which turn up all the the time. Amy's lamp is the Knappa Pendant - we found two in a brief eBay search.
Design Public
This online store (based in San Francisco) has some very nice higher-end pieces if you're looking for something special. (They also offer free shipping on orders over $50.) This is the Harry Allen-designed My Brother's Mirror for $188.
Etsy
Amy's planters are actually double-walled ice buckets that she repurposed — a smart idea that prevents moisture from condensing on her wood surfaces. For similar pieces, search Etsy's vintage category for "ice buckets" — lots of options will turn up.
OTHER RELEVANT RESOURCES

• The lamps on the dresser were originally from IKEA, but are no longer available there.
• For colorful furniture on a budget, buy unfinished furniture and paint it yourself.
• 10 Common Thrift Store Finds and Ways to Use them for DIY Projects
• Best Thrift Stores: Coast to Coast
• Flea Market Guide: Coast to Coast

To see the full tour of Amy's home, click here.

Photo: Sarah Coffey