Virgil Abloh Gives A Sneak Peek of His IKEA Collaboration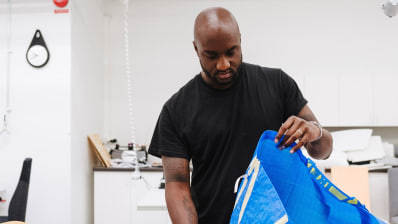 (Image credit: IKEA via Dezeen)
Virgil Abloh is giving a few peeks into his collaboration with IKEA. The designer behind fashion label Off-White was at HQ in Älmhult earlier this week, where he showed off a piece in the new collection.
Abloh's collaboration was announced in June at IKEA's annual Democratic Design Day. It's meant to explore the first home and how to make it inexpensive and fashionable, with furniture tailored specifically to the needs, tastes and budgets of young adults, who Abloh refers to as a "post-Tumblr generation" who tend to put a "high emotional value" on art and design in the home.
While at IKEA on Monday, Abloh shared a look at a rug prototype, which has a traditional Oriental pattern, but is then emblazoned with Off-White's signature phrase, KEEP OFF.
The designer went live on Periscope with Ikea Creative Leader Henrik Most to talk about the process of bringing ideas to reality and taking viewer feedback for the open source designs. "Why add a version of something that already exists?" he says about the provocative rug design. "Now you notice the rug."
In the video, Abloh's asked about his team, and in true democratic design fashion, he met most of them on Instagram. One member, Taylor, is a furniture design student from New Zealand who hasn't even been in an IKEA (there aren't any in the country).
Abloh, who started in architecture, talks about the permanence of designing for the home rather than clothing. "You buy a bed maybe two, three times in your lifetime."
Live from the prototype shop in Älmhult! #ikeaxvirgil #ikeatoday @ikeatoday //t.co/hxxhA4JDrJ

— virgil abloh (@virgilabloh) October 16, 2017
The collection, which is expected to launch in 2019, will focus on those essentials for the first home, and Most revealed that the team has been looking into materials and working on prototypes for chairs, a table, a lamp, as well as accessories. "We're starting in the one room where all activities take place," he adds, referencing a studio or a bedroom in a shared apartment, which is how many people start out.
Check out the full video above for more Q&A with Abloh about the collection.
h/t Curbed