This Is the Perfect Time to Finally Buy a Vitamix (They're on Major Sale!)
We independently select these products—if you buy from one of our links, we may earn a commission. All prices were accurate at the time of publishing.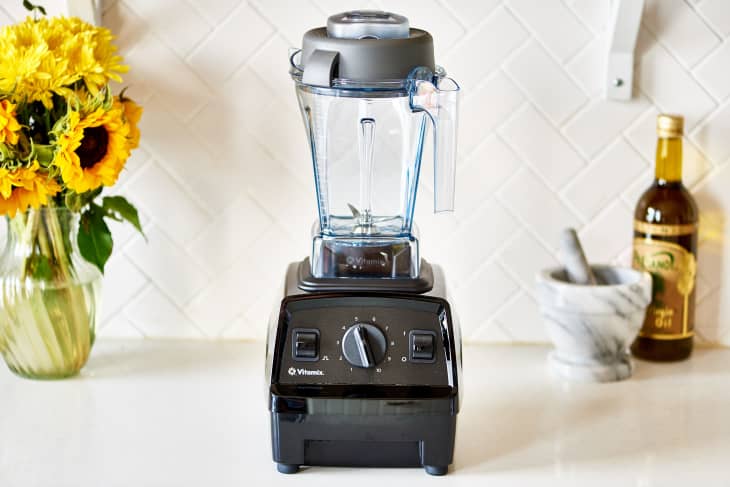 We've all been doing a lot more cooking over the past few weeks, but being creative can be tricky with limited ingredients available, and, if we're being honest, it can also feel like a lot of work. Time to mix things up — literally. Right now, Vitamix is hosting a huge sale on its iconic blenders, offering up to $120 off ALL brand new machines and $120 off the certified reconditioned Venturist V1200! That means that with the click of a dial, you can easily whip up delicious new menu options, transforming garbanzo beans into creamy hummus, turning fruits and vegetables into healthy juices and smoothies, and using those canned tomatoes to create chunky salsas and silky soups. And that's only the beginning! We rounded up some of our favorite Vitamix picks below, but be sure to check out the entire sale before it ends on May 17.
Follow Topics for more like this
Follow for more stories like this
1. E310
The E310 is considerably cheaper than other Vitamix models but still packs the same punch. It can whip up pancake batter, soups, smoothies, nut milk, sauces, and so much more. Kitchn Managing Editor Lauren has raved about her E310, saying, "I don't know why I suffered through so many bad blenders before it."

Buy: E310, $290 (normally $350)
2. A3500
The A3500 is the most sophisticated of all Vitamix models and perfect for cooks who care about having the latest and greatest appliances. While it's ridiculously powerful like all Vitamix machines, it has the added benefit of wireless and Bluetooth connectivity, so you can control your blender with your phone. Plus, it's compatible with various jars to extend your Ascent's versatility. Simply screw on a jar, and the machine will automatically detect which size you're using and adjust the setting accordingly. Currently, the snazzy copper model is $50 off, and the other colors are $70 off.

Buy: A3500 in Black Stainless Metal Finish, $550 (normally $650)
3. Professional Series 750
Among the most powerful of all the Vitamix blenders, the Pro 750 can make smooth soups, frozen piña coladas, cantina-quality margaritas, and, yes, even smoothies. Once you're done, fill it with warm water, add a few drops of soap, select the cleaning setting, and your powerhouse blender can clean itself in 30 to 60 seconds!

Buy: Professional Series 750, $550 (normally $600)
4. A2300
The A2300 is equipped to bring cold ingredients to steaming hot temperatures in as little as six minutes! Plus, the variable speed control and pulse option give you complete control over the texture of your dishes which is perfect for those who like their soups smooth as butter and smoothies with a bit of chunk. There's also an in-built digital timer that takes the guesswork out of trickier recipes you need to process manually, while the built-in wireless connectivity gives you the freedom to control the motor base from the convenience of your phone.

Buy: A2300, $400 (normally $469)
5. Certified Reconditioned Venturist V1200
Here's why it's never a bad idea to snag a refurbished Vitamix: Before selling reconditioned models, the company rebuilds them and puts them through a 17-step process to make sure the machines will give you the same performance as brand-new products. As for the powerful Venturist V1200, it comes with a digital timer that helps you avoid over-processing ingredients, plus self-detect technology that allows the motor base to recognize the container size you've chosen and adjust program settings accordingly. And at $120, this is too good of a deal to pass up!

Buy: Certified Reconditioned Venturist V1200, $330 (normally $450)