Disney's New Booking Tool Might Make Your Next Trip Cheaper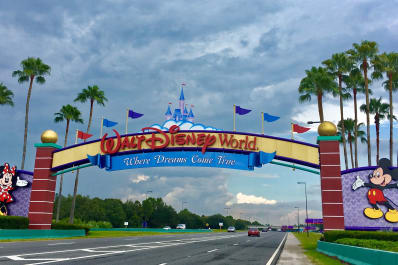 (Image credit: Jerome Labouyrie / Shutterstock.com)
If you've ever tried planning a Walt Disney World vacation, you know how much preparation goes into each and every stage. From deciding on your hotel (on or off Disney property) to planning out your dinner reservations, booking your stay is a skill that takes time to master.
Of course, one of the most important boxes to check off your list is purchasing your park tickets—the reason you're traveling to Disney in the first place. But that entire process is about to change with Disney's new ticket purchasing system rolling out October 16, according to Disney Parks Blog.
Currently, there are three prices for one-day tickets at Walt Disney World parks, which are broken down by value, regular, and peak. But once the new booking platform kicks in, the company will be using an "interactive calendar" that changes your price depending on two factors: Your arrival date and the duration of your trip.
In other words, Disney fans might be pleasantly surprised to find that their park tickets are less expensive. But unfortunately, there is the chance that it can do quite the opposite, too. The potential price spike can be somewhat rationalized based on new major attractions that are currently being built, including the highly anticipated 'Star Wars: Galaxy's Edge' slated to open in Orlando next year.
Putting price adjustments aside, Disney claims that the interactive calendar will simplify the booking experience for guests in many ways. The new vacation-planning platform will feature travel tips, customized suggestions, and park overviews.
That being said, any price increase or decrease will be unknown until the October launch. But for now, we're wishing on a star.