Warm Modern Workspace: Get the Look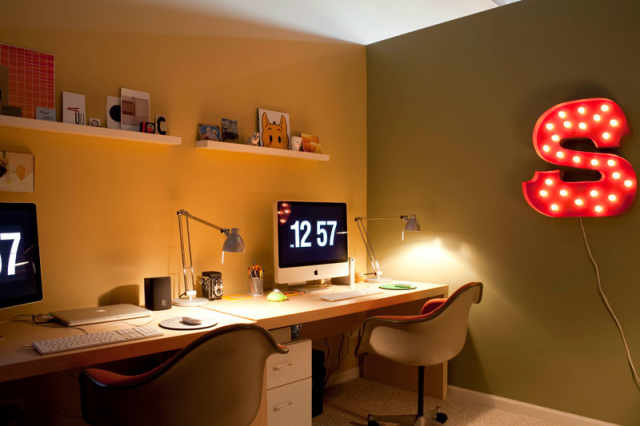 David and Jo-Nell's home office is a great example of using color and artwork to warm up basic modern furnishings. A graphic designer and photographer, respectively, they have a joint workspace that reflects their clean, well curated aesthetic. If you're shopping for a similar look, we've rounded up some good sources.
Basic Contemporary Desk
IKEA
David and Jo-Nell use two matching desks to create a long work counter. For a similar look, try the Jonas Desk with Pull-Out Panel at IKEA. It's inexpensive at $129, and the look is streamlined and simple. For more double-desk inspiration, you can also check out this post.
File Cabinets
CB2
There are lots of places to find inexpensive file cabinets, including IKEA and West Elm, but we like CB2's powdercoated metal file cabinet ($150). It's simple and made from durable steel, and it comes in white, gray, or red.
Wall Shelves
West Elm
Basic wall shelves like the ones shown above aren't hard to find at chain stores like West Elm, Pottery Barn, or IKEA. This is the Paxton Wall Shelf, $49 - $69, from West Elm. For more good wall shelf options, see this post.
Office Chairs
Modernica
You can find vintage versions of David and Jo-Nell's upholstered shell chairs on eBay or craiglist, but if you're looking for something specific, LA- based Modernica can mix and match colors and bases for you. This is their standard Rolling Arm Chair for $399.
Lighting
IKEA
Their Antifoni Work Lamp ($30) is a popular budget task lamp. It has a halogen bulb, steel frame, aluminum reflector, and plastic joints, and it's available in silver or black. If you're looking for similar styles on the higher end, see this post.
Paint Colors
Benjamin Moore
Their Aura (low-VOC) and Natura (no-VOC) lines are popular options that have little-to-no odor and off-gassing. Both types of paint are available in almost any Benjamin Moore color. Try "Forest Hills Green" for a warm sage color, and "Soft Marigold" for a yellowish ochre.
Illuminated Signage
Lite Brite Neon
For really good deals, scout craiglist, thrift shops, and antique stores for illuminated signage, but if you have an idea for a custom piece, go to Brooklyn-based Lite Brite Neon. They specialize in custom-made neon and bulb signage, and they work with designers on a regular basis.
Other Relevant Resources
Post 27
David and Jo-Nell list this Chicago store as one of their favorites. The store carries a mix of vintage pieces and unique new items, like this handcrafted Color Story Credenza, $2,400. We especially like their selection of artwork and accessories.
Salvage One
Another good Chicago shop on David and Jo-Nell's source list, Salvage One has a warehouse full of architectural artifacts and vintage furniture. This Swivel Desk Chair is currently available there for $575. They also have a good selection of vintage industrial furnishings, like desks and file cabinets.
Design Within Reach
For licensed reproductions of mid-century modern pieces, as well as contemporary designer items, DWR is a consistently well-stocked resource. Shop here for modern tables, chairs, and lighting. This is the Tolomeo Desk Lamp for $395.
To see the full tour of David and Jo-Nell's loft, click here.

Photo: Evan Thomas