We Can't Get Enough of This Campaign Dresser on Bazaar
We
independently
select these products—if you buy from one of our links, we may earn a commission. All prices were accurate at the time of publishing.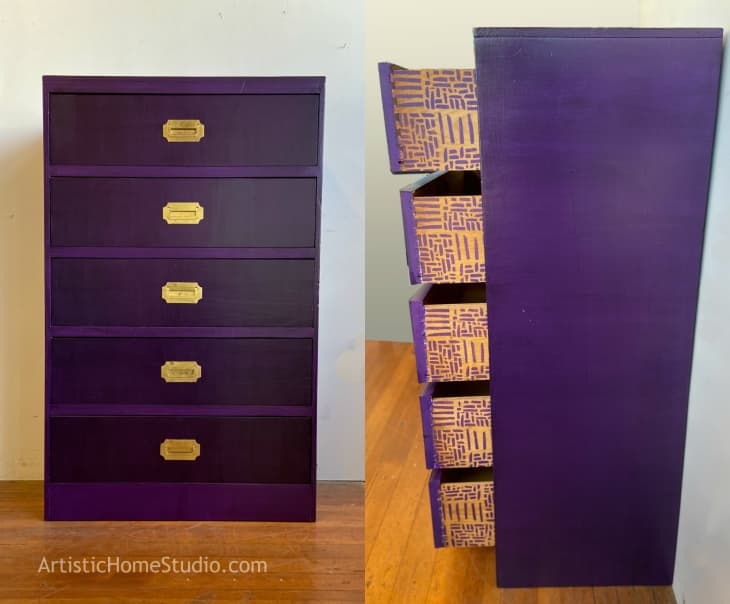 Purple Campaign Style 5-drawer Tallboy Dresser – $350 – Do you like Purple? Then you will love this Campaign-style, 5-drawer purple dresser! The dresser has been professionally re-loved with high-end furniture paint and a durable, protective coating that will last for many years to come. Open the solid wood drawers to see the fun design on their sides. And yes, we were listening to Prince when we painted it. Must see it in person to appreciate! – ALAMEDA, CA
I can't get enough of campaign furniture, so of course this purple dresser stopped me in my tracks while browsing Bazaar. (I mean, the color alone is worth a second glance!). Campaign pieces often retail for hundreds of dollars, even on secondhand sites, so finding one that rings up at under $400 is also a major steal.
Campaign pieces are classic and super traditional without being at all dated–you'll find them in many AT home tours, on Pinterest, and all over Instagram, and for good reason. They're sturdy, house a ton, and are just so darn stylish!
If you're not feeling the purple here, you could paint over this piece, but I honestly love the fun pop of color that's a little bit out of the ordinary. If you live in a rental and can't paint over your white walls, turning to colorful furniture pieces is a great alternative–you still get a splash of brightness without having to worry about reversing things when it's time to move out!
Campaign pieces are in high demand on Bazaar, so don't miss your chance to snag this one while it's still available–and BTW, did you catch that awesome stenciling on the drawers?!