We Finally Know What IKEA's "Hackable" Sofa Looks Like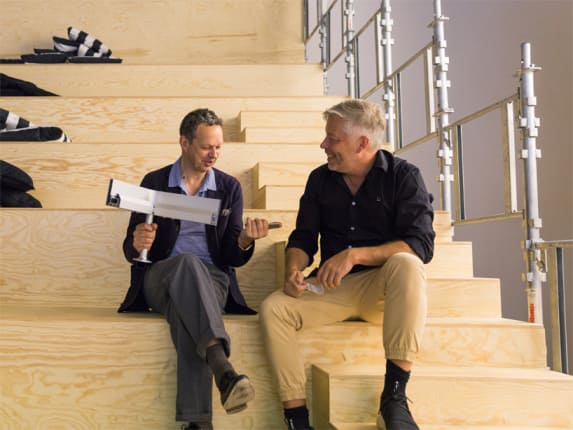 (Image credit: inter IKEA systems B.V. 2016)
It's about time: After nine months of teasing the collaboration, IKEA is finally giving us a full look at DELAKTIG, the hackable, open source sofa Tom Dixon has designed for the Swedish retailer. Check it out:
The project was first announced last year at IKEA's annual Democratic Design Day, and details were scarce—just that the famed British designer was working on an aluminum-framed sofa that could "surpass the KLIPPAN" and was a key factor in "how to solve the tensions that arise in smaller spaces having to be one-stop shops for socializing, eating, working, and relaxing."
We then got wind that the piece was meant to be "hackable" and that third-party companies, as well as design students, would be working on "plug-ins" for the collection. Students from London's Royal College of Art prototyped add-ons to the flat-pack sofa like "a clip-on privacy screen, a baby's crib and a wall of shelves, among other designs" during an IKEA workshop.
And last month, the project finally had a name—DELAKTIG, which is Swedish for "being part of something." The line is expected to launch in early 2018 with an optional clip-on lamp, and more accessories rolling out afterwards. IKEA says DELAKTIG will be priced in the middle of their sofa range, which is $399 to $899.
Now, we know what DELAKTIG looks like. IKEA also announced that Bemz, the Swedish company known for creating slipcovers and accessories for IKEA products, will be amongst the brands offering third-party add-ons for DELAKTIG, and that they will be available concurrently with its launch in 2018.
Dixon also talked more about its transformational qualities. "It's a bed first but it can turn into anything," he told Dezeen. "The bed becomes a sofa with my additions and even more with a network of sub-suppliers that will feed into this platform." Students have turned it "into a raft, it's turned into a double decker bed, a sofa system for airports."
But it's also up to you to put your spin on it. "One of the inspirations for the project was the hacking community that exists out there and the idea that there might be things that we can't think of that people might want to add," Dixon told WSJ in February. And we can't wait to see what everyone comes up with.
What do you think of DELAKTIG? Tell us in the comments.