Weekend Project: Create a Perfect Curio Wall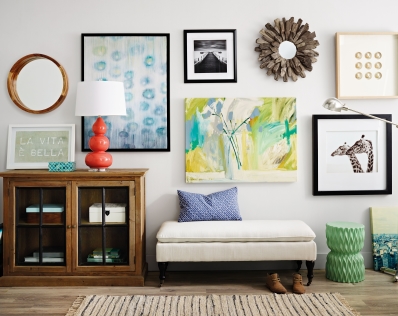 Have you been wondering how to best display your collection of stagheads? Or maybe all those Aztec artifacts you have lying around need some proper organization? If this was the 16th-century and you were a European aristocrat, we might recommend investing in a Cabinet of Curiosities. But it isn't. And you're (probably) not. Besides, who has space for another piece of furniture? Instead, we recommend creating a curio wall to show off your collection of beautiful and intriguing objects, whatever those may be. Curious to lean how?
Choose Where: You will need a wall. Hopefully your home has these. You could literally do a curio wall anywhere, but entryways, dining rooms and living rooms are especially perfect since they're some of the places you use most frequently for entertaining and curio walls are amazing conversation starters. Choosing a blank wall above an entryway bench is extra neat, as you can use part of the extra surface for a base layer of objects.
Fill in the Blanks: You'll want to make sure your collection is complete before you begin laying it out. Stores like HomeSense are great since they get in a new mix of affordable products every few weeks. Make sure you'll have enough objects of varying sizes to densely fill your space. Also don't forget: many fragile objects (like butterflies, sand dollars and the like) are better off mounted in frames rather than directly on the wall to protect them from dust and damage, so keep an eye out for appropriately-sized lucite or traditional box frames.
Lay it Out: Take color pictures of each object, print them to scale, and tape these to the wall to decide on an appealing layout. Breaking the rules is generally encouraged here. A half-finished chalkboard wall adds a touch of whimsy in the example above. Also, keep an object's functionality in mind: that porthole bathroom vanity you wanted but couldn't find a proper place for could become the perfect tableside spice cubby in a kitchen curio wall.
Mount: Curious objects are often curiously-shaped, so you may need to get creative with mounting hardware. Simply hang artwork, box frames or flat mirrors, but plan to build mini shelves or make use of moldable glue (like Sugru) for oddly-shaped objects.
Ready to start collecting for your curio wall? Discover what's in store right now at HomeSense and follow them on Pinterest for the latest tips, trends and ideas.