4 "Just in Case" Entertaining Pieces Nobody Should Be Storing in Their Kitchens
We
independently
select these products—if you buy from one of our links, we may earn a commission. All prices were accurate at the time of publishing.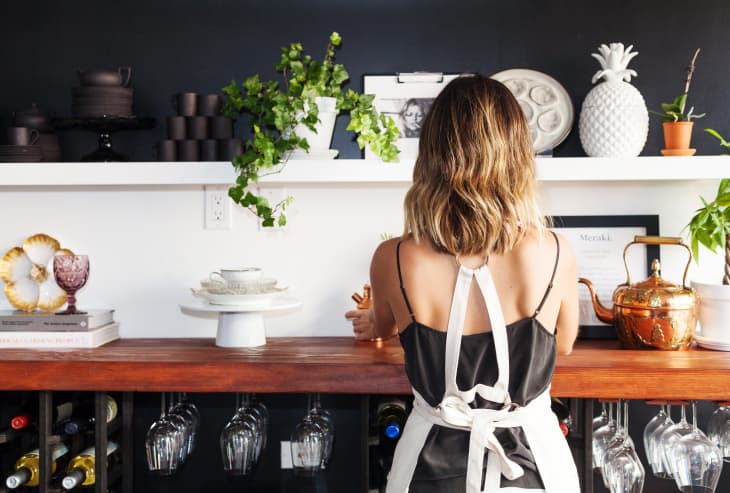 Apartment Therapy Weekend Projects is a guided program designed to help you get the happy, healthy home you've always wanted, one weekend at a time. Sign up now for email updates so you never miss a lesson.
We're right smack in the middle of our two biggest entertaining holidays. It's the time of year where your platters, gravy boats, and the rarely sighted soup tureen take their turns on the festive table and then the dish rack.
It's fresh in your mind and possibly right in front of your eyes what you've reached for and liked to use. And it's almost as obvious what you probably don't need or prefer not to use. Those are the things that are still taking up space in your cabinets, hiding on those top closet shelves, or sitting idle in the storage boxes in the garage.
Before you put away more than what you really need for another year of storage, free up some space by decluttering your collection of servingware while it's in rotation.
This Weekend: Declutter your servingware.
Some of the servingware and entertaining-type kitchen accessories you own may be hard to let go of. You think you may need it for that one as yet unknown future event or it's a piece you inherited from your great-grandparent.
But these are exactly the instances in which it's helpful to think of decluttering as letting that thing that you're hanging on to go on to have a "better life" serving someone else. If you were a duplicate serving ladle, would you rather be stuck in a box forever, or spooning gravy onto the plates of another lovely family?
Here are some items you may want to release, just to get your mental juices flowing:
1. Platters that no longer fit into your aesthetic
Maybe you're no longer into kitschy Christmas images on your serving dishes. But someone else out there is.
2. Hyper-specific pieces that don't suit your entertaining style
You used to think you'd serve a palate-cleansing course of citrus sorbet and, yes, those crystal goblets you inherited would have been perfect. But it hasn't happened once and you've found out along the way that the dinner parties you throw are far less fussy.
3. Duplicate serving utensils
You only need as many serving spoons, forks, or tongs as you have serving platters. Duplicates take up space unnecessarily. And if one does get left somewhere or lost, you can pick another one up rather than using your house as a storage unit of just-in-cases.
4. Any other items you don't use
You may have serving items that you like and that aren't necessary duplicates, but they never get pulled out. Maybe it's the beautiful green cake stand festooned with crystals that just never quite fits in with what you make or maybe it's the fondue pot you got as a wedding present that still hasn't been opened. Let them go and reclaim some space.
You can catch up with weekend projects right here. Share your progress with us and others by posting updates and photos on Instagram and Twitter with the hashtag #atweekendproject.
Remember: This is about improvement, not perfection. Each week you can either choose to work on the assignment we've sent you, or tackle another project you've been meaning to get to. It's also completely okay to skip a weekend if you're busy or not feeling the assignment.