The Only Weekend Project You Need to Do This Weekend Is One Heartwarming Thing
We independently select these products—if you buy from one of our links, we may earn a commission. All prices were accurate at the time of publishing.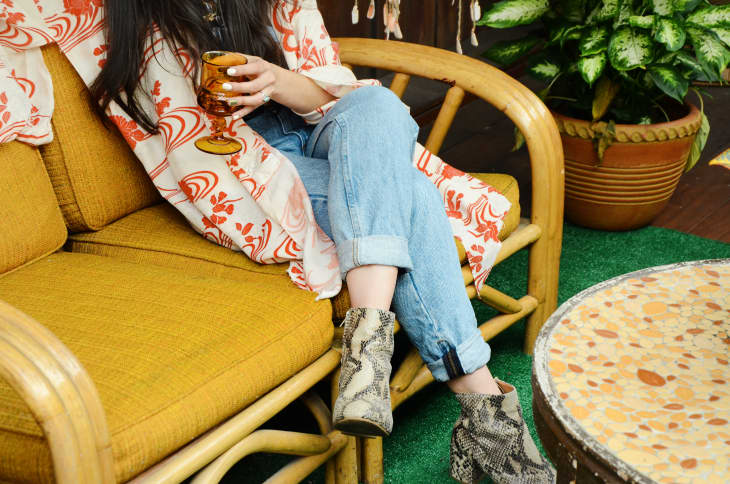 Apartment Therapy Weekend Projects is a guided program designed to help you get the happy, healthy home you've always wanted, one weekend at a time. Sign up now for email updates so you never miss a lesson.
Over Thanksgiving weekend, I called my cousin Jeff, who lives across the country and whom I haven't been able to see or hug in far, far too long. As we exchanged Thanksgiving greetings, I told him about how I messed up my mashed potatoes and green bean casserole and that I'd already bought the ingredients I needed for a re-do.
Follow Topics for more like this
Follow for more stories like this
He said, "Okay, but did you make the celery?" I laughed and confessed that I hadn't but that I'd meant to and needed to!
For decades, through my entire childhood and extending back to well before I was born, every family gathering included passed-around plates of a celery appetizer that looked strange but from anyone's first bite, made our family famous for it.
The celery—cold, crisp, sharp, and decadent—was there as I sat at the feet of so many loved ones who are no longer with us, wrapped in the warmth of unconditional love. It was there as I listened in awe to my mother sing, eyes scrunched tight and finger pointing in the air, at the top of her lungs when "Unchained Melody" came on the radio at a Fourth of July party. And it lives in my memory as a constant link to the joyful, idyllic past, even through the deaths, estrangements, and separations that followed.
Making and eating it now would be pure nostalgia.
This Weekend: Do one nostalgic activity.
Whether it's through preparing and eating a certain food, getting lost in a certain kind of music, or doing a specific game or activity, engaging in nostalgia connects us to our past and and carries some of what makes us who we are into the future. This is especially true if we're able to share the nostalgic activities with our children and pass down some oral history and carry on traditions at the same time.
But nostalgia, though it can be painful, feels good. Anchoring yourself in your roots this way can make what might be a hard season less so because you're keeping comforting memories alive. According to The New York Times: "Nostalgia has been shown to counteract loneliness, boredom and anxiety. It makes people more generous to strangers and more tolerant of outsiders. Couples feel closer and look happier when they're sharing nostalgic memories. On cold days, or in cold rooms, people use nostalgia to literally feel warmer."
Doesn't this sound like what we all need? What will you be doing?
And before you go, a quick note:
Weekend Projects will go all year! If you've been doing Weekend Projects with us for a while, you might know that we sometimes take a break during the month of January for the January Cure. Well the 2021 January Cure is still happening (it's not too late to sign up), and so is Weekend Projects! We'll be sending you new projects each February in January, and all year long.
You can catch up with weekend projects right here. Share your progress with us and others by posting updates and photos on Instagram and Twitter with the hashtag #atweekendproject.

Remember: This is about improvement, not perfection. Each week you can either choose to work on the assignment we've sent you, or tackle another project you've been meaning to get to. It's also completely okay to skip a weekend if you're busy or not feeling the assignment.