Take Care of This Quick Decluttering Project Before You Shop for Gifts This Year
We
independently
select these products—if you buy from one of our links, we may earn a commission. All prices were accurate at the time of publishing.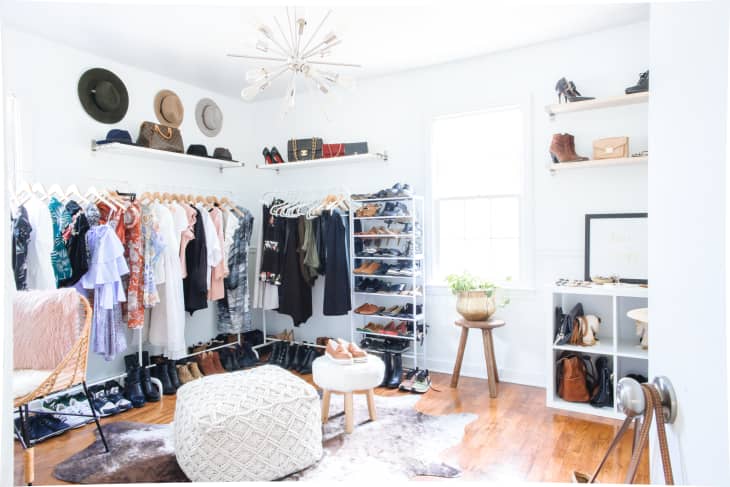 Apartment Therapy Weekend Projects is a guided program designed to help you get the happy, healthy home you've always wanted, one weekend at a time. Sign up now for email updates so you never miss a lesson.
In a year when it feels daring to even look forward to something, my relationship with physical things has undergone a shift. And perhaps yours has, too.
Things that used to feel unimportant or unendingly available at any time suddenly became scarce, from the most ordinary items (toilet paper) to the super specific (¼-inch elastic). At the same time, it seemed like everyone was finding comfort in objects at home, too. It all provided the clarity people needed to be able to declutter their possessions with vigor, fueled by a new perspective of what's important to hang on to, and what's not.
All these feelings around things, along with the distance you've felt being away from family and friends, makes giving gifts this year feel especially meaningful. It's a way to reach your loved ones even when you can't be together, to show you care with something tangible. And shopping for those gifts might feel more like an act of love than it ever has.
There's one thing you should take care of first, though, before you receive any gifts and before you shop for any. It's a task that feels so thankless and like such a drag. But putting it off strangles your budget and clutters up your space; getting it done frees up funds and gives you room to enjoy new things.
This Weekend: Take care of your returns.
There's no way to make it fun, but I promise it'll feel so very good to get it done, done, done! Here's how to jump in headfirst and get this home-and-life-decluttering task checked off the list in one fell swoop:
Gather all your returns in one spot. The towels that weren't quite the color you were hoping for, the coat that doesn't fit well, the flushable wipes that got recalled, all of it. Bring it to one area and make a pile.
Gather what you need to make your returns happen. Pull receipts up from your email, find the physical receipts you need, grab your packaging and tape for items you have to mail back, and pull out a bag or box for items you need to return in person.
Get your returns ready. In this step, print your return labels, begin processing your Amazon returns online (remember, you might not need to package up Amazon returns), put your physical receipts in a special slot in your wallet, package your items, etc. Jot down a list of amounts that you'll get back so you can check credit card or bank statements to make sure the funds go through.
Make your returns or make a plan. If you can get out and drop everything off at the post office and return what you need to in person, do it. If you can't finish right away, make a plan for when you will and even plot out your route. Put your items in the car or at least by the door.
In a few weeks, don't forget to check your list to make sure funds were returned to your accounts.

And if you're looking for more ways to prepare your mind and your home for the holidays, sign up for Apartment Therapy's first-ever Holiday Cure, which begins Saturday, November 7!
You can catch up with weekend projects right here. Share your progress with us and others by posting updates and photos on Instagram and Twitter with the hashtag #atweekendproject.
Remember: This is about improvement, not perfection. Each week you can either choose to work on the assignment we've sent you, or tackle another project you've been meaning to get to. It's also completely okay to skip a weekend if you're busy or not feeling the assignment.