5 Small Ways You Can Use Leap Day to Get Ahead on Spring Cleaning
We independently select these products—if you buy from one of our links, we may earn a commission. All prices were accurate at the time of publishing.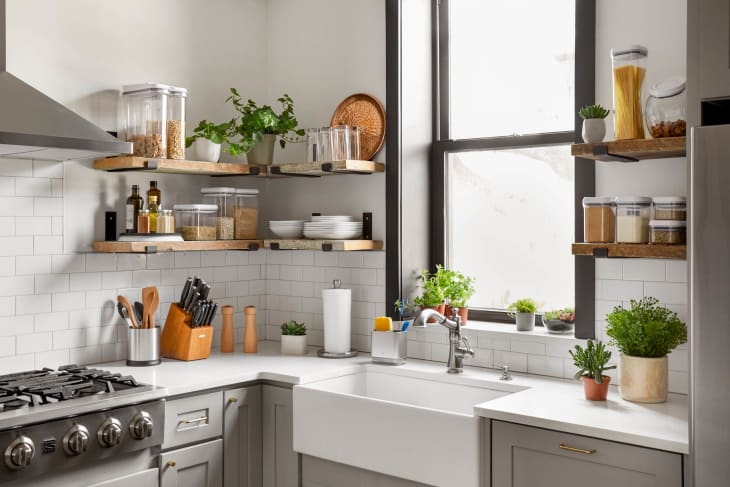 Apartment Therapy Weekend Projects is a guided program designed to help you get the happy, healthy home you've always wanted, one weekend at a time. Sign up now for email updates so you never miss a lesson.
Follow Topics for more like this
Follow for more stories like this
So if you've ever wished for a bonus day to drop out of the sky, this weekend is your lucky one. Not only is today not the end of the month, but the extra leap day—Feb. 29— falls on a Saturday, so it feels eminently usable.
One of the best ways to use your extra day is to get yourself ahead on something that's looming in front of you. With March a little late but just around the corner, it's the perfect time to get a jump start on your spring cleaning tasks.
This Weekend: Pick one spring cleaning chore and get it done.
This weekend, we're going to channel all that extra-day, get-ahead energy to check one thing off that long spring cleaning checklist. Then, as we head into our spring cleaning days, we'll be one step ahead of the game. Even one small already-done item is enough to make the difference between dread at a monumental undertaking and an energetic, motivated let's-do-this attitude.
Here is a list of spring cleaning items to pick from, along with why they're good candidates for getting done early:
1. Dust the never-dusted spaces
You'll have to dust your usual spots again by the time spring cleaning rolls around, but you can take the opportunity to tackle the rarely dusted spaces now. These include the tops of door frames, the surfaces on the tops of cabinets and the fridge, your ceiling fan blades, and the tops of bookshelves as well as the items on the shelves.
This is one of those chores that seems like such a big one but doesn't actually take that much time. If you can toss your curtains in the wash, get those loads going. Otherwise, vacuum them, steam them, or take them down so you can get them to the cleaners. Don't forget shower curtains and liners! Getting this done early frees up your washer and dryer during actual spring cleaning and gives you time to get to the dry cleaners if you need to.
3. Polish your wood furniture
Before you polish your wood furniture, you'll need to dust it. Getting these tasks done makes a nice dent in your spring cleaning, and you'll get to enjoying gleaming coffee tables, pianos, and chair legs that much sooner. There's no reason not to do it early.
4. Deep clean your showers and tubs
Again, when this task is lumped in with spring cleaning as a whole, it feels arduous and time-consuming. But plucking this out of the spring cleaning context and getting it done now should only take about an hour.
This is a chore that's best done before regular sunny days are upon us. Sun can cause your windows to try too quickly, leaving streaks. So doing this chore early might yield a better result than if you waited until the spring.
You can catch up with weekend projects right here. Share your progress with us and others by posting updates and photos on Instagram and Twitter with the hashtag #atweekendproject.
Remember: This is about improvement, not perfection. Each week you can either choose to work on the assignment we've sent you, or tackle another project you've been meaning to get to. It's also completely okay to skip a weekend if you're busy or not feeling the assignment.