The Only Thing You Really Need to Wash This Weekend
We independently select these products—if you buy from one of our links, we may earn a commission. All prices were accurate at the time of publishing.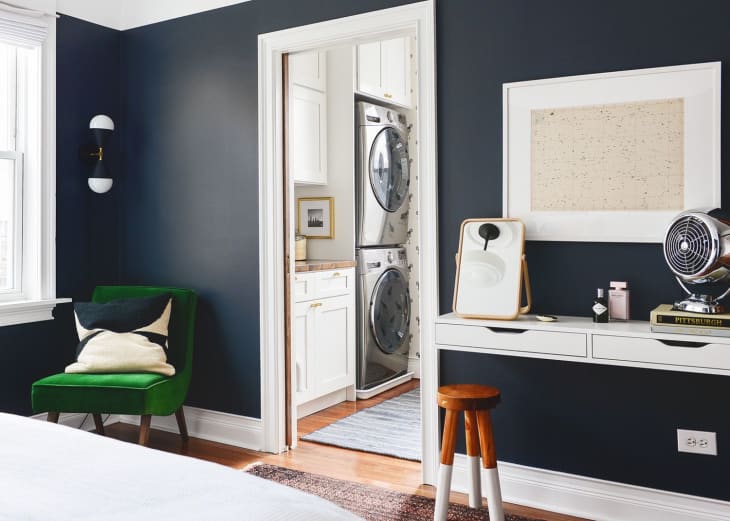 Apartment Therapy Weekend Projects is a guided program designed to help you get the happy, healthy home you've always wanted, one weekend at a time. Sign up now for email updates so you never miss a lesson.
Some things have no good storage solution. Take, for example, the clothes that pile up on your chair — or, as we've sheepishly dubbed it, the "clothes chair."
Follow Topics for more like this
Follow for more stories like this
You know the one. It's where your not-perfectly-clean, worn-once-but-can-be-worn-again, not-dirty-enough-for-the-laundry-pile clothes go. It's the stuff you feel funny putting back in your dresser drawer or hanging up as if it's freshly washed, but it's not at the point where it warrants the wear and tear of the washer and dryer.
Or maybe your "clothes chair" isn't a chair at all. Maybe it's a bench or side table. For me, it's a set of hooks hanging above the laundry hampers in our closet, with layers of pajamas that I intend to wear again, shirts I traded after half a day for something comfier, and exercise clothes I didn't actually exercise in.
Whatever your worn clothes purgatory looks like, we're going to reset it this weekend.
This Weekend: Wash the "clothes chair" pile.
All your good intentions may have ended in a pile of wrinkled, dusty clothes. And that's totally okay. Take care of those neglected clothes, get them back into visible rotation, and reclaim your chair (or whatever) space by putting all these clothes in the laundry.
Once you've washed, dried, and put away your clothes pile clothes, take a moment to consider your path forward so you don't end up with the same pile a couple months from now.
Will you reset every other week? Will you try putting once-worn items back in their spots in closets and drawers? There aren't any rules, but some forethought and decision making can break patterns you don't love. Just think: Thoughtlessly tossing clothes on a chair pile could be one little clutter-making habit you ditch this year.
You can catch up with weekend projects right here. Share your progress with us and others by posting updates and photos on Instagram and Twitter with the hashtag #atweekendproject.
Remember: This is about improvement, not perfection. Each week you can either choose to work on the assignment we've sent you, or tackle another project you've been meaning to get to. It's also completely okay to skip a weekend if you're busy or not feeling the assignment.