There's a Scuzzy Filth Haven on Display in Your Living Room—Here's How to Clean It
We independently select these products—if you buy from one of our links, we may earn a commission. All prices were accurate at the time of publishing.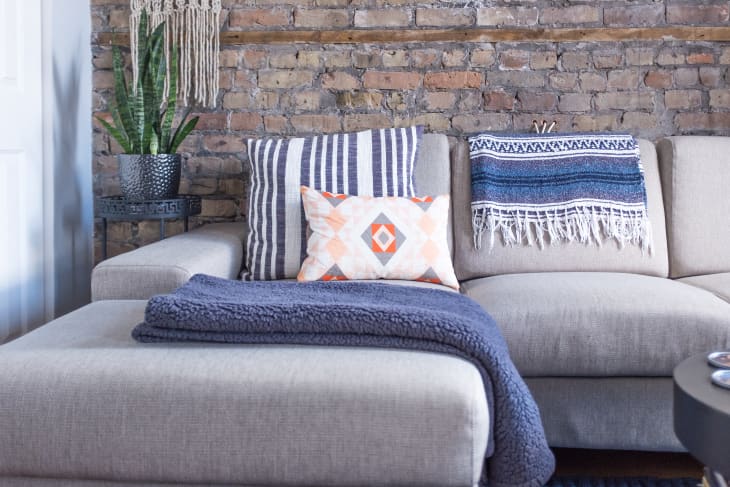 Apartment Therapy Weekend Projects is a guided program designed to help you get the happy, healthy home you've always wanted, one weekend at a time. Sign up now for email updates so you never miss a lesson.
We're going to cut to the chase here: Your throw blankets are probably "scuzzy," to use my mother's useful and highly descriptive word, and you should wash them. Fuzzy blankets with lots of surface area and regular contact with human and animal bodies (read: a steady supply of shed skin cells/food) are an attractive environment for dust mites. Pollen, crumbs, bacteria, and fungus, can also lodge and proliferate in the fibers of your favorite throws.
By this point in the winter season, your throw blankets may have been tossed about the house, used as roofs in a few forts, snuggled up with during movie nights and reading sessions, sneezed over, eaten upon, and dragged by and wrapped around family members for a few months.
Do you remember the last time you washed them? Don't answer and don't worry. We're going to wash your throw blankets—all of them—this weekend.
This Weekend: Wash your throw blankets.
To make sure that the comfort objects that are our throw blankets aren't exposing us to allergens and microorganisms that could make us uncomfortable and even sick, we're going to wash each and every one of them.
1. Gather and Sort All Your Blankets
First, gather your throw blankets from around the house. Check your baskets, couches, kids' bedrooms, the ends of the beds where you might spread decorative ones, and wherever else your household blankets tend to land. Bring them all to your laundry area.
Sort your blankets by type. For instance, put all the kids' small cotton blankets together and place all the giant fleece throws in one pile. Read care labels.
Shaking your blankets to remove any crumbs and debris keeps larger particles from clogging your washer. Grab each blanket or each set before they go in the washer. If possible, shake the blankets outside. If not, do it inside in an open space and vacuum immediately after shaking.
Start by washing smaller blankets made of similar fabrics and colors together, if you have any such loads. Any blanket bigger than a twin bed size should be washed alone.
Follow these tips for each load:
Wash on the delicate cycle.
Use cold water.
Use only a small amount of detergent. You want to make sure all the detergent gets rinsed out or you could end up with a less soft blanket.
Add an extra rinse cycle to further ensure all the detergent is washed out.
Consider a sanitizing detergent that works even in cold water to ensure your blanket gets fully clean.
If allowed by the care label, dry your blanket in the dryer. Use low heat.
For delicate or "stretchy" blankets, you may want to dry partially in the dryer and then let it hang dry the rest of the way in order to avoid shrinking.
Put delicate blankets or loosely knit ones in a large mesh bag.
You can catch up with weekend projects right here. Share your progress with us and others by posting updates and photos on Instagram and Twitter with the hashtag #atweekendproject.
Remember: This is about improvement, not perfection. Each week you can either choose to work on the assignment we've sent you, or tackle another project you've been meaning to get to. It's also completely okay to skip a weekend if you're busy or not feeling the assignment.