We Followed 6 People Tackling Real Resolutions—Here's What They Learned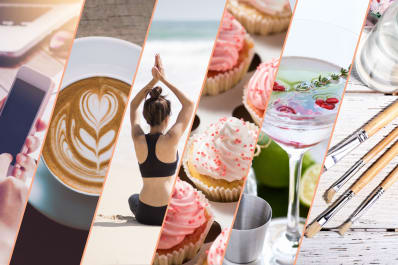 (Image credit: Shutterstock)
Most people think of their New Year's Resolution as a way to permanently change the things they don't like about themselves, their bodies or their lives. But over time, wisdom catches up with ambition and you start to realize the truth: It's tough to turn your whole life around on January 1st.
Instead, you should use the start of the year as a sort of reset button to reanalyze the habits that might be keeping you from your best life. Use the month of January to temporarily quit a bad habit or start a new good one—it's much easier to cut out sugar when there's a light at the end of the tunnel rather than thinking to yourself "this is it, life without cookies, forever." Then, when the month is done, use the challenge as a chance to re-evaluate what effect sugar (or meditation, or social media) has on your life.
That's what we asked six of our writers to do this year: Take on a month-long wellness challenge and write about it. Share the struggles, share the good days and the bad days. Tell us what you're doing and how you're doing it. Then most importantly, at the end of the month, come back and tell us what you've learned.
Their insights from the month of January are eye-opening. Some were shocked at how easy it was to give up something they considered life blood. Others really struggled with their new habits until the very last day. To gain some of their wisdom and decide if a February challenge might be in the cards for you, read their final installments by clicking on the titles below.
The three weeks I spent off the coffee wagon transformed my relationship with caffeine.
---
I'm here to tell you, from hard-earned experience, that social media is no substitute for real experiences.
---
Although our relationship has been on-and-off for years, meditation and I are officially back together and this time we're committed to really making it stick.
---
I am going to go back to drinking on February 1 with a new sense of how it affects me.
---
Cutting out sugar was equal parts liberating and stress-inducing. I missed it. I really, really missed it.
---
I picked up the brush and created something that resembles artwork, even—and especially—when I didn't really feel like it.
If you need to catch up with earlier posts, you can find their introductions right here and their mid-way check-ins here.