What Do You Do When You Finally Have the House To Yourself?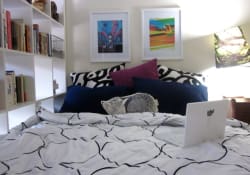 The rest of the family went on a holiday without me. Hubby, my two kids, plus Grandma and Grandpa. All gone for two weeks. Now, as I stretch out on the bed realizing I have 13 perfect nights where I won't have to fight for the covers, I have to ask myself: what on earth am I going to do?
It seems so long since I had so much time in my apartment alone to myself. Actually, it's been over 3 and half years. Which means all those things I used to do with hours of time seems to have vanished from my mind.
Still, I am taking advice from a friend who said, "Make the most of the time you've got! Write down everything you want to do and cross it off, even if it's tiny things like sleeping in one morning or taking a long shower. That way you won't waste any time, and you'll be able to look back at the list and remember how you pampered yourself."
Reading a book, an entire book, while lying on the couch is definitely on my to-do list. And some serious cleaning - not the usual routine of vacuuming Cheerios or picking up Legos, but the kind that makes the house feel fresh and new. Maybe I'll put on a movie night for myself, some sappy film I've wanted to watch for ages, or try a new recipe, something I know my kids would hate, but I'll love.
Readers, what do you do when the family is out or away? What is on your dream to-do list if only you had the time, space and peace and quiet?
(Image: Alison Gerber)