What Exactly Is a Murphy Bed?
We
independently
select these products—if you buy from one of our links, we may earn a commission. All prices were accurate at the time of publishing.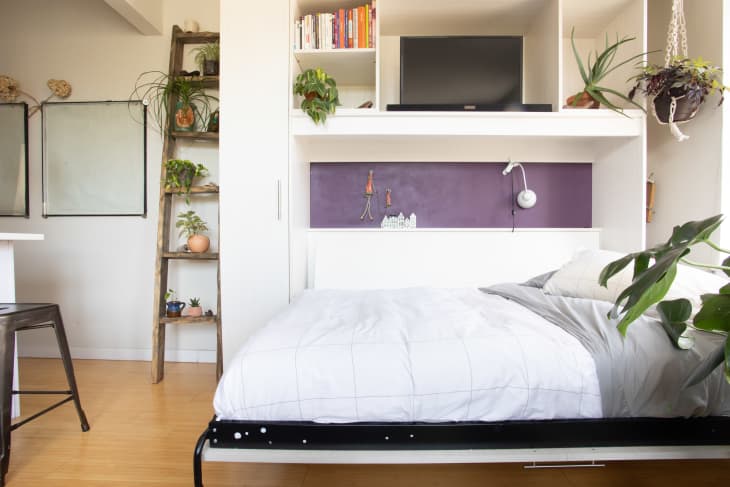 Renters and homeowners alike have been drawn to the Murphy bed for over a century. Originally created for city dwellers who need to maximize small spaces, this kind of bed remains popular in homes of all sizes for various reasons. But what is a Murphy bed, exactly? Ahead, dig into the purpose they serve and see how they may be a good fit for your own space.
The Murphy bed was named for an inventor named William Lawrence Murphy, a resident of New York City who was looking to make the most of his small apartment in the early 1900s. Also commonly called a "wall bed,"  these sleeping platforms are assembled on hinges to easily fold up and pull down as needed. 
Murphy beds have come a long way since their original iteration. Modern versions can be enveloped into bookcases, shelving units, storage consoles, and more. Most Murphy bed frames come in various sizes to accommodate a standard twin, full, or queen mattress. DIYers can customize almost every component to create a piece of accent furniture that adds character to the room.
Are Murphy beds comfortable?
If you're looking for a comfortable Murphy bed, there are two things to consider: the frame and the mattress. These go hand in hand: The mattress needs to fit the specifications of the frame in order to fold up properly. A thinner mattress may not be as comfortable as a thicker, pillow-top version, but a mattress topper can make the setup more cozy.
If you're building a Murphy bed from scratch to fit your space, customize the dimensions to be proportionate with the mattress of your choosing. This will help make sure the entire setup is plush and well-suited for a good night's rest.
What are the advantages of a Murphy bed?
Installing a Murphy bed is a great way to expand the surface area in a room. They're an ideal option in tiny homes, small apartments, dorms, mobile homes, and studio spaces. If you're working with a limited amount of square footage, tucking the bed away gives you more room to move about. Here are some other advantages of a Murphy bed:
Multifunctional: A Murphy bed setup can double as an expanded storage cabinet, a wardrobe console, a display unit, or all of the above. 
Customizable: While there are many pre-built options available, DIY and custom versions can be personalized to the exact needs of your space. Maybe you need a guest bedroom to double as a home office, or you want a kid's bedroom to double as a playroom. A well-designed Murphy bed can help you combine multiple spaces into one room.
Visual Appeal: Murphy beds usually take up a significant amount of wall space and can make a big design statement in small rooms. They come in a wide array of styles and finishes to complement virtually any decor theme.
The hinges and frame of a Murphy bed may require maintenance over time, depending on how frequently it's used. Still, with regular care and upkeep, they'll continue to stand the test of time.