What Floors Are Elderly-Friendly?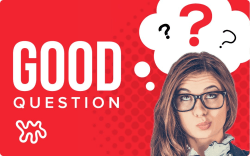 Q: My husband and I are retired and hope to stay in our two-story Charleston/New Orleans-style Florida beach house as long as possible. Hence we are renovating with an eye to our future. The house is 17 years old and built with the idea we would retire here. Young and spry then, the extent of our elderly planning included door handles, a 360 degree stairwell — so if we fell, we'd only fall halfway! — and a seat in our shower...
Being on the beach, we installed tile throughout the house fearing tracked-in sand would scuff other floor coverings. We only carpeted the master and guest rooms and staircase. Needless to say the carpet needs to be replaced both from age/wear and the addition to our household of 2 miniature poodles with long nails. One poodle has an "accident" problem that has horribly stained our already worn carpets in spite of the fact we've had them cleaned twice a year.
Our dilemma is what flooring to install on the stairs and master bedroom which will be pet and elderly (meaning possible walker, slipping, etc.) friendly. We know new carpet is an option, but wonder if the current trends of bamboo or cork would be a better alternatives. The house has become somewhat eclectic with the addition of a Star Trek-type elevator from the second floor to the kitchen in anticipation of our not being able to carry groceries to the upstairs kitchen/living area.
Question: Do either cork or bamboo fit our needs? Are they compatible with a "salt" environment? What is the cost differential between cork, bamboo, and appropriate carpet and padding? Finally, does anyone have an alternative that I haven't considered?
Considering the disruption of moving furniture and installing a new floor, we want this to be our last renovation so we don't want to make a mistake. All thoughts/experience would be greatly appreciated!! We're getting old and don't have time for re-dos! Many thanks. -Sent by Linda
Editor: I'm going to make a nice little list of flooring-related Apartment Therapy articles that might help Linda, but what I'd especially love to hear from all of you is insight into what types of flooring are the most- and least- "elderly friendly". Which have you and/or older friends and relatives found to be easiest to clean, easiest to maintain, and the most slip-and-fall-proof? Which types of floors are most accommodating to canes, walkers, and wheelchairs? Any salt-resistant and puppy-proof recommendations would be excellent as well. Please share your wisdom!
Have a question for our community? Send us yours with a photo or two attached (questions with photos get answered first).
(Images: Linda)