What Is Laminate, Anyway?
Welcome to Wilsonart Wednesday! We've teamed up with the kitchen experts at Wilsonart to answer our readers' questions about kitchen renovation.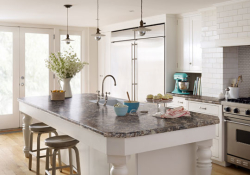 Q:
What exactly IS laminate? What is is made out of? Isn't it plastic? Then how can it be 'green'? - c_P
A: High Pressure Decorative Laminate (HPDL) is made by saturating sheets of paper with resins, then pressing them under high heat, fusing the layers into a single sheet. Surprisingly, a sheet of laminate is only 30% plastic resin; the rest is paper! Laminate sheets are bonded, using special adhesives, to "substrates" made of plywood, fiberboard or particle board which give the final product its strength and substance. The laminate surface provides resistance from wear and impact. Read on for our favorite surprising facts about the material!
Wilsonart's laminate countertops are made from post-consumer recycled fiber content (think brown grocery bags) and from unused wood fibers from rapidly renewing forests, which is why it was the first laminate producer in North America to be certified by the Forest Stewardship Council. Its products also meet indoor air quality standards, as they are low-emission.
Here are our favorite surprising facts about laminate:
Laminate was originally invented as a material for electrical insulation, not decoration.
"Woodies," the wood paneled station wagons popularized in the 50s and 60s, were actually sided with woodgrain laminate.
Today, most bowling alleys are surfaced with laminate. Wood lanes can be warped by the weight of bowling balls; plastic laminate lanes allow for a more accurate bowl.
Interiors of pleasure boats are often manufactured with laminate because of the product's durability, easy maintenance and resistance to salt.
Many of the 20th century's greatest designers worked with laminate: Donald Deskey, Aero Saarinen, Ray and Charles Eames, Norman Bel Geddes, Raymond Loewy, Florence Knoll, Vladimir Kagan, Robert Venturi, the Memphis Group, Michael Graves, even Frank Lloyd Wright.
(Image: Wilsonart)