What is the Narrowest Countertop Width Suitable for Baking?
Welcome to Wilsonart Wednesday! We've teamed up with the kitchen experts at Wilsonart to answer our readers' questions about kitchen renovation. We'll be posting the answers on Wilsonart Wednesdays all summer long, so ask your questions here and check back in for the answers!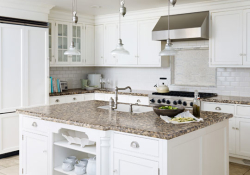 Q:
I am planning to use cabinets to build a small peninsula and I am stuck on how wide the countertop should be. What is the narrowest width a counter can be and still be useful for baking?
- Samantha S.
A: If you're baking, then you do want to have enough of a countertop to comfortably roll out dough. For basic baking, you can use the standard kitchen counter width. Standard kitchen base cabinets are 24 inches deep with a counter overhang 1 to 1 -1/2 inches deep. Therefore, a kitchen counter can be 25 to 25-1/2 inches deep. For avid bakers, though, that might not be enough. If your space permits you to extend the width to 30" you'll have an ideal surface for your baking needs.
(Image: Wilsonart)