What is this Mystery Wood in My New Kitchen? How Do I Decorate Around It?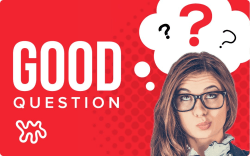 Q: We're about to close on an apartment with unusually bold wood cabinetry in the kitchen [photo below], and I'm a little stumped by it. Can anyone tell me what this wood is called? I'd also love any suggestions on colors that might complement it. We have mostly white, modern furniture and a pale grey sofa. I'd like to replace our white dining table with something wooden, but I am afraid of the wood clashing with the kitchen...
We'll also need lots of rugs (both for visual softness and because we have a baby and a toddler), but I am not sure which direction to go in terms of color— potentially pale blues and grays or maybe deep blue? Looking forward to your wisdom and suggestions! P.S. The high-gloss white tiles go through the ENTIRE apartment, so there is a lot of white to contend with! -Sent by Georgina
Editor: Wow, now that is some wood! Readers, how do you recommend Georgina decorate this high-gloss, bold-cabineted, ultra-white, super-tiled apartment? What would you do?
• Have a question for our community? Send us yours with a photo or two attached (questions with photos get answered first).