Here's What I've Learned About Drinking at the End of Dry January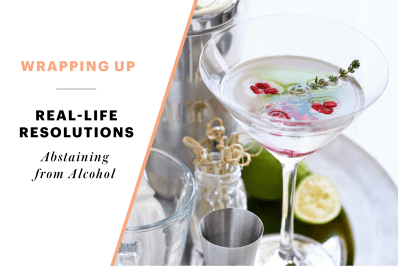 (Image credit: Daxiao Productions/Shutterstock)
Chris Phillips is one of six people tracking their resolutions with Apartment Therapy in real time. You can read his earlier installments here and here.
What do you do when one of your best friends asks a question you just can't answer?
I texted my Dryuary journal to my friend Erika. She replied: "I think if you were to make a pros and cons list of drinking alcohol, and the cons included death, alcoholism, destroying your liver, DUIs, car accidents, violence, domestic abuse, public humiliation, embarrassment, sex that shouldn't have happened, losing jobs, and simply sometimes just looking like an idiot or saying things you regret, I think skipping alcohol is the better choice. Are there any pros that can counter that list?"
Erika and I met at casino night (gambling—another acceptable vice?) during freshman orientation in college and we've been close since. She was there for some of my first legal drinks. I didn't have a quick or sassy comeback to Erika's question so I've been sitting with this question as we head to the end of Dryuary.
Day 16
I went to physical therapy and picked up a new iPhone at Grand Central Station. It's these quiet afternoons when I might have stopped in a hotel bar or wine bar for a drink or two by myself. It can be a lovely escape. I know the commenters will say coffee or tea can provide the same kind of break—I don't agree but of course I'm sticking to Dryuary and even starting to enjoy it.
Day 17
A co-worker gave me cocktail flavored lip balm. Moist lips, now with Negroni flavor!
Day 20
Good news: Inauguration Day didn't drive me to drink.
I worked from home today and had the chance to work on projects that needed more concentration (with lots of cuddle breaks with my son). No commute for me means less stress; I didn't spend the morning bouncing around a crowded subway car with strangers. The clarity makes me wonder if maybe it's the commute as much as work itself that makes us crave the "wind down drink" at the end of a long day (it's been coming up in the comments to this series). Maybe Apartment Therapy should do a Commute Cure to help us ease the daily journey?
Day 21
Shaking things up by doing Dryuary with some of you seems to have inspired me to make some other little shake ups just to see what will happen. My San Francisco friend suggested I wash my hair with conditioner instead of shampoo so I've been doing it for a week. The results are amazing! Best ever! We're making graying hair great again!
Day 22
Reinforcements have arrived: more Fevertree Naturally Light Ginger Beer and Q Grapefruit. It sounds obvious but having great alternatives sure makes Dryuary more fun.
Day 23
TIL about fire cider. Lukas Volger, editor of the amazing Jarry Magazine, tweeted his favorite mocktail recipe to me:
@gochrisgo Thanks! Love this. Not doing dryanuary now, but a fave "mocktail" is shot of fire cider in seltzer, w/ a sqz orange & rosemary

— Lukas Volger (@LukasVolger) January 23, 2017
Day 26
I had a sudden realization: So many of the emojis are about beer, wine and cocktails!
Day 27
My co-workers are celebrating their weekly "wins" again this Friday. It's funny how noticeable the beer smell is. They knew not to invite me over, since I'm not drinking. It gave me a small sense of the kind of social exclusion people who don't drink must feel all the time.
I promised myself a reward at the end of this, so I ordered a bouquet from Putnam and Putnam. Dryuary is basically in the books!
So, How Did The Whole Thing Go?
I'm feeling the buzz of accomplishment from committing to a plan and seeing it through. I haven't had a drink since that Champagne on New Year's Eve and won't until February 1. Mission Accomplished.
When I tried Dryuary a couple times in Januarys past, I slipped up a few times. I had some sips of wine or beer before I remembered what I was trying to do. I think writing about the experience and answering your comments gave me a nice extra bit of motivation and reinforcement—so thank you! It makes me wonder if there are other online communities to help people reach their goals. (I'd like to try and do my exercise routine at home three times a week, and I bet the virtual camaraderie and encouragement would help.)
It is all too easy for me to tell myself that, at my age, my patterns are my patterns and my habits won't change much. It's a lame excuse. Dryuary reminded me of something that should have been obvious: You're really never too busy, too old, or too tired to try something new. I was excited to see that doing Dryuary motivated me to attempt to change other patterns.
---
"Dryuary reminded me of something that should have been obvious: You're really never too busy, too old, or too tired to try something new."
---
What I Learned
My parents once had this psychotic Border collie. The poor dog ran in loops in the backyard, never deviating from her path. She wore the path so deep you could see it from Google Earth. We are not psychotic Border collies! Change can be fun, even if it is hard.
I'm definitely sleeping better. And though I never weighed myself during the challenge, I do think I lost at least a few pounds this month judging by how my jeans and belts feel.
Mostly, I'm more aware of how alcohol sits at the center of our culture: martinis on the emoji keyboard, bourbon at the barbershop, beer celebrations at work. A friend today reminded me that alcohol sales and the bar are the revenue engines of fine dining. I think our neighborhood grocery store makes a lot of their money from beer delivery via app. A co-worker told me that avoiding alcohol "makes it hard to be social in this city and pretty much impossible to date." I'd also say that alcohol is a recurring character for those of us who work in advertising and other creative fields here in NYC. New Yorkers don't drive or even own cars so we are able to be more lax with alcohol.
I pushed myself to mention the gay and lesbian community in my second post. I agree with an Apartment Therapy commenter who said LGBT people might turn to alcohol, drugs and develop other additions "from being harassed, marginalised, bullied, etc., from a young age." The commenter said the strong connection I see between gay culture and bars is sad. I love the strong sense of community I've always felt in the best gay bars, but I have to agree.
Where I Will Go From Here
I still need to answer my friend Erika's question. After staring down her text listing all the good reasons not to drink, I have to answer for myself: Why would I return to drinking? I do have one little answer: Cheese tastes so much better with wine. I treated myself to my favorite Mt. Tam triple cream cheese last week. It tasted terrible with soda, and not so great with plain water.
In moderation, alcohol has a power to help create this sense of a "third place." Perhaps this community building effect is part of why alcohol is part of many celebrations and religious observances? The theme song to sitcom Cheers reminds me that we need this place that isn't home or work "where everybody knows your name and they're always glad you came. You want to be where your can see the troubles are all the same."
I am going to go back to drinking on February 1 with a new sense of how it affects me, and that leads me to think my overall consumption will go down. I'd like to stick to what another commenter called "happy drinking." To me, this means more mindful alcohol consumption: Drinking at a time when you can enjoy it. Farewell to drinking warmish beers at my desk while primping Power Points.
To read the final resolution posts from our other writers, click here.
Kicking a Coffee Habit
Checking Out of Social Media
Making Meditating a Daily Habit
Abstaining from Alcohol
Cutting Out Sugar
Using Painting as Therapy