What the GOP Tax Bill Means for First-Time Homebuyers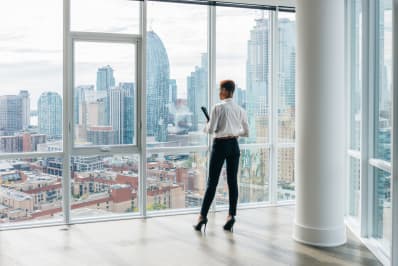 (Image credit: Jen Grantham/Stocksy)
The House and Senate both passed versions of a sweeping new tax bill in the past month. What happens now is a joyless legislative mashup as the two chambers try to resolve sticking points between the two bills and present the president with a final version to sign before year's end.
While the GOP's tax plan will have broad and lasting consequences in just about every corner of our economy (not least of which is the $1 trillion in debt it's expected to create over 10 years, even factoring for accelerated growth), here's how it could impact first-time homebuyers.
You might have more money
The majority of Americans — 62% — can expect to save at least $100 on their taxes in 2019, and those earning between $50,000 and $75,000 should save an average of $850, according to the nonpartisan Tax Policy Center.
Now, a few Benjamins doesn't a down payment make, and most mortgage applications are concerned with your gross (pre-tax) income, not your take-home pay. But every bit helps when you're saving up for a house.
Some parents (high and middle-income) will get an additional boost, as the plan would increase the Child Tax Credit from $1,000 to $1,600 (House bill) or $2,000 (Senate bill). And if you're in a high income bracket or own a small business, your tax savings could be substantial.
You won't be able to deduct as much (but you may not need to)
Most Americans don't itemize their taxes. It's a royal pain in the ass, to be honest. But the ones who do are almost all homeowners, because you can deduct enough stuff to make it worthwhile, like mortgage interest and property taxes.
And because lenders front-load the interest payments on their loans (they want to make sure they get paid), the first years of your mortgage give you plenty of interest to write off. You can also deduct some closing costs, making itemizing a boon for first-time home buyers.
While the House plan would cap deductible mortgage interest to loans less than $500,000, the Senate plan leaves the limit at $1 million. However, it caps property tax deductions at $10,000, and both plans eliminate deductions for state or local sales and income taxes. All of this hits homeowners in expensive, high-tax areas like California, New York, and New Jersey quite hard.
In exchange, the Senate plan nearly doubles the standard deduction — which everyone can claim, without itemizing — to $12,000 (or $24,000 for a married couple). That means a couple would have to be paying upwards of $2,000 a month just in mortgage interest to make itemizing worthwhile. So while it doesn't eliminate the mortgage interest deduction, it does make it more or less moot for a large number of homeowners, negating what was formerly an advantage.
Home prices might fall... but homeowners may not want to sell
The National Association of Realtors predicts the tax bill could sink home values by an average of 10% — and more in pricier markets — because it weakens those real estate tax incentives.
That's welcome news if you've been sitting on the sidelines, priced out of an expensive housing market. However, the biggest challenge to housing affordability remains a shortage of inventory — there aren't enough homes for sale, so the ones that do hit the market get bid up. And if home prices fall, even fewer homeowners may want to sell, compounding the inventory problem.
Meanwhile, one pesky change in particular will almost definitely result in fewer houses for sale. When you sell a house for more money than you paid for it, you have to pay capital gains tax on the profit — unless, that is, you've lived there for two out of the last five years, in which case you won't owe taxes on the first $250,000 in profit ($500,000 for a married couple). Both the Senate and House tax plans change the minimum residency requirement to five of the last eight years.
So say Jim and Cara bought a small Cape in 2014 for $300,000. It's worth $400,000 now, and with a kid on the way they'd like to trade up to something bigger — but if they do, under the new tax bill, they'd owe long-term capital gains tax (15%-20%) on that $100,000 difference. They could save 15 grand or more by waiting until 2019 to sell... which in all likelihood means one less starter home on the market.