What Would Edgar Allan Poe Have Thought of IKEA?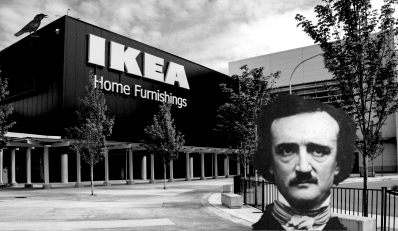 Homemakers have been committing their advice to paper for centuries, but do those tips hold up? An ongoing investigation.
***
It's a Saturday afternoon at the Brooklyn IKEA, and I've never been more convinced of any fact in my entire life than this one: Edgar Allan Poe, writing in 1840, predicted the rise of this Swedish furniture behemoth. My evidence is the following sentence, taken from "The Philosophy of Furniture," an essay Poe wrote for a publication called Burton's Gentleman's Magazine:
In short, the cost of an article of furniture has, at length, come to be, with us, nearly the sole test of its merit in a decorative point of view. And this test, once established, has led the way to many analogous errors, readily traceable to the one primitive folly.
For what brings us (me) to this particleboard warehouse on a sunny weekend afternoon if not to buy a bookshelf that says 'I did not spend a lot of money on this but it looks…OK?" That's what I'm here for, that's what the screaming children and their weary parents are here for, that's what the newly cohabitating couples are here for, and because elsewhere in this essay Poe extols the virtues of interior design as practiced by the French, the British, and the Russians but essentially calls even Americans with money tasteless rubes, it's fine (he doesn't say anything about the Swedes).
I don't mean to brag, because part of the appeal of the big-box store is that it makes equals of us all, but I am probably the only weirdo here today carrying around a printout of Poe's furniture essay because I have decided that since he has such strong opinions on what a living room and the people sitting in it should look like, I might as well see if his advice is usable. Also, I have always liked Poe and will probably never do any of the other things he was famous for, like write poetry, overdose on laudanum or marry my teenaged cousin.
Poe says that a carpet is the soul of the apartment, and I know this does not bode well for me, because I have recently decided I am taking a break from rugs. What would he think of my choice to leave the hardwood floors of my rented apartment bare? Would his judgment be as harsh if I told him, moving into the next part of the textiles section, that even though his essay devotes a solid two paragraphs to curtains and the ropes that attach to them, I mostly leave my windows uncovered? Other things he derides as being in poor taste are: glass, which is troubling because there is a large glass door in my living room that I'm awfully fond of; mirrors, which due to a circa-2015 devotion to neo-Hollywood Regency style I have a ton of; and lamps that are not astral lamps (I actually kind of agree with him on this, but they don't sell astral lamps at any of the stores I go to, so I'm out of luck). He's also not fond of gas, and while I know he's almost certainly talking about gaslight, it is a reminder to me that I should probably figure out how to pay my gas bill online this week.
I'm starting to worry that in order to bring Poe into my home, I'll either have to become exceedingly rich and do it without losing my sense of taste, or get uncomfortably literal and lure one of my enemies into my basement and then trap them there, which wouldn't work even if I were a murderer because I live in an apartment! I don't have a basement!
Defeated, I sit down at the cafe in front of a plate of meatballs (these, surely, Poe would approve of, because they are cheap, and also if he were here with me I would, because of my generous nature, offer to pay for his lunch). I pull out his essay once more, this time focusing on the last paragraph, in which Poe describes a room with which even he cannot find fault.
It has perfect light, and a rosewood and crimson silk sofa upon which a lovely woman dozes prettily, and a candelabra, and no chairs or mirrors. This room sounds fantastical because it is just that: a fantasy. It's not a room Edgar Allan Poe actually visited, and it's certainly not a room he could have ever afforded — we are, after all, talking about a man who got thrown out of boardinghouses on a regular basis for not paying his rent.
It's in this sort of imaginary jealousy that I finally recognize our kinship: I, too, know how I would furnish my dream room, and I know what it would smell like, and I know how I would look when the dusk streaming in through the windows merged with the candlelight to softly illuminate my face, and I know what kind of person (rich, smart, content) I would be if everything in it were mine. I hate every room that isn't this room, but I hate the room most of all because I can't have it. Poe couldn't have it, either, which is probably why he was so repulsed by the decorating choices of people with lives more stable and filled with money than his own.
I feel sorry for him, this man with the ability to conjure such beauty and the lack of resources to make that beauty his own, and then I feel sorry for myself because I want an astral lamp and also I have eaten all of my meatballs, and then I buy a bookshelf and one of those knockoff ghost chairs (on-brand for me AND for Edgar Allan Poe, I guess) and then I go home.
A few days later, the bookshelf is delivered, and it doesn't quite fit in the space I want it to be in, so I call my friend Michelle and ask her to come over and help me decide what to do. Her eyes, fresher and kinder than mine, see a solution, one that involved creating a "reading nook" (maybe I will read Poe there!) and a few well-placed gold lamps that share space with neatly-arranged hardcover books.
It looks pretty good, and as far as living rooms go, that's good enough for me.
Previously: 14th Century Homemaking From "A Medieval Home Companion"
Angela Serratore is the web editor of Lapham's Quarterly and a writer and historian living in Brooklyn.