7 Things You Absolutely Shouldn't Keep When You Move
We
independently
select these products—if you buy from one of our links, we may earn a commission. All prices were accurate at the time of publishing.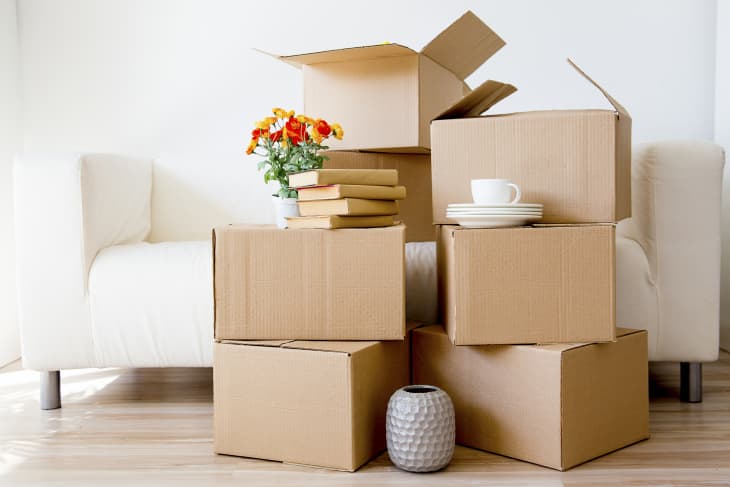 There's nothing like putting all your worldly possessions into boxes to make you question why you even own things in the first place. Moving is already overwhelming, and deciding what you should keep (and what you should toss) makes it even harder. It's all too easy to arrive in the land of two extremes: Get rid of too much stuff, or just throw it all in boxes and unpack your clutter in a new location. 
Melissa Maker, founder of the YouTube channel and blog Clean My Space, has a few common-sense guidelines to reduce the madness and keep you from second guessing too much. Her biggest piece of advice, though? Keep what you can. Moving is expensive—if you think you'll need to re-purchase something after moving, and it's working well (and being used) at your current spot, pack it with you. But for those things you're not so sure about, here are Maker's tips for what to just leave behind when you move. 
Maker describes a common situation we've all found ourselves in: Owning a matching set of plates or bowls, then a few odds and ends from all over the place, like a souvenir plate from an aunt who went to Europe and a bowl that somehow survived from your college dorm. Unless you really need these pieces, or you're already pulling off the mismatched look, Maker recommends donating them. They're probably not being used that much anyway, or are making the other plates hard to stack.
Ah, mugs. An inexpensive gift you rarely have a dire need for. Even if you live in a house of daily tea or coffee drinkers, you likely have a collection that far exceeds your needs. Narrow your collection down to the matching sets or favorite gifts, and donate the rest. 
You're probably not going to cart your oven and fridge with you on the move, but you may have a collection of small kitchen appliances currently gathering dust. Unless you regularly use your panini press or electric kettle, these are great candidates for donation or giving to friends. 
This one seems obvious—no need to pack last week's ziti casserole. But pantry items, like spices and oils, can often hang around way past their expiration date. Generally, old spices just get less potent over time. They're not dangerous, but if you have oregano long past its expiration date, it's not going to taste good, either. Even if you don't compost yourself, you may be able to find a drop-off spot in your city. If you want to prevent a cabinet full of barely used spices in your new place, clean out the bottles and consider buying smaller amounts in the bulk section of your grocery store going forward. You'll save money and waste less.
Like with the mismatched dishware, there are usually some not-so-great towels or sheets shoved into your linen closet. You know, the set you don't actually like that much but keep on hand, or the ripped up towels you didn't get rid of when you bought a new set for the guest bedroom. Pare down your collection to what you're actually using, and take those old towels and pillows to a pet shelter where their new four-legged owners won't mind if it's a bit ripped and faded. 
When it comes to pillows, Maker recommends this quick test to see if it's really time for them to go: Fold them in half, and if they expand back out, keep using them. If it stays folded, donate it with the rest of the linens to somewhere like that pet shelter.
Anything that's been in storage for too long
If you have something you haven't taken out of storage in over a year, like Christmas decorations that never got put up or old sports equipment, donate it. Like with unused kitchen appliances, save yourself the grief of moving it to just find a place to store it.
Although Maker is a full-time cleaning expert, she stresses how few cleaning products you actually need. (You can see her own list of essentials on her blog.) As you pack up to move, Maker encourages packing good all-purpose cleaners and stuff already in your routine. But if you find a stash of rarely-used, super-specific cleaners, find a way to safely dispose of them (your city may have a drop-off location) and start afresh with a pared-down kit of cleaning supplies in your new place. 
Things like sponges, brooms, and brushes are fine to move, as long as they're in good condition and can be cleaned. Maker does offer one exception however: a toilet bowl brush. Get rid of it and start with a new one in your new place. 
…But don't worry about clothes
Unless you find visibly stained clothing or things that just don't fit in the process of packing, Maker actually cautions against doing a huge clothes purge while moving. It's just too much to try to process. Instead, she recommends waiting until the seasons change to sort through them. You'll be much less overwhelmed by then and can decide which coats are actually needed, and what you can part with. It's also one less thing to worry about as you pack.