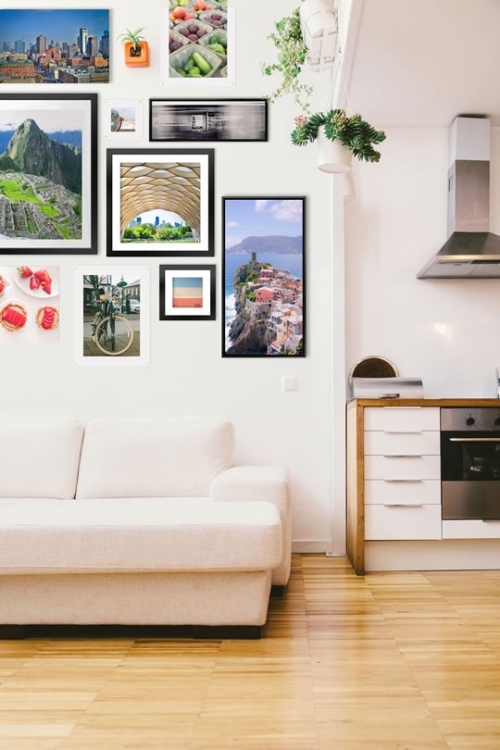 Gallery walls are the chameleons of the decor kingdom—they can change shape, color, and content to blend in with any room's style. In most cases, once wall galleries are hung they're considered all done. But that doesn't have to be the case—updating just a few of your gallery's frames or rethinking what's on display can completely refresh a room with minimal effort.
Take Your Gallery to Beautiful New Depths
Most gallery walls exist in just two dimensions, but why not pursue all three? We like to play with framing and printing options that will give the prints themselves some new depth, and then mix them in with complementary accessories and ornaments that fit the same theme.
Wrapped canvas prints (either framed or unframed) can be mixed in with existing prints and will stick out from the wall by about two inches to give your gallery some depth. You can also get fancy and add subtle texture variations by choosing different papers for your prints. Photos with high contrast look best on lustre photo paper with a smooth finish, while pictures or art prints with more subdued tones will look luscious on soft fine art paper.
Go Frameless
Hang a few prints without frames in your gallery for another level of depth. Paper prints with a plain white border can be mounted with fancy pushpins for a decorative accent, or print some peel & stick fabric posters to add depth and soften up the gallery with the soft texture of fabric prints. Between wrapped canvas, framed prints, and frameless prints, you'll now have three different levels of awesome in your gallery.
Rethink Your Theme
Have you grown out of your sepia Paris print phase already? Or are you still displaying baby pictures...even though your kids are in middle school? It's OK, it happens to the best of us. Swapping out images might sound expensive, but SnapBox makes these kinds of regular refreshes agreeably affordable, with prints starting at $0.75 (yes—that decimal point is in the right spot).
You can regularly change up family photos or kids' artwork. Or challenge yourself to come up with a new gallery theme, and think outside just a single genre. Themes based on something as simple as a unifying color, for instance (think: all-orange fruit and veggie prints to brighten up a tired kitchen wall, black-and-white photos from your last vacation) can create a whimsical sense of repetition.
What's in your gallery? Does it stay the same or is it a rotating exhibit inspired by seasons, special events and design goals? Let us know in the comments!