What's the Right Age or Moment to Pass on an Heirloom?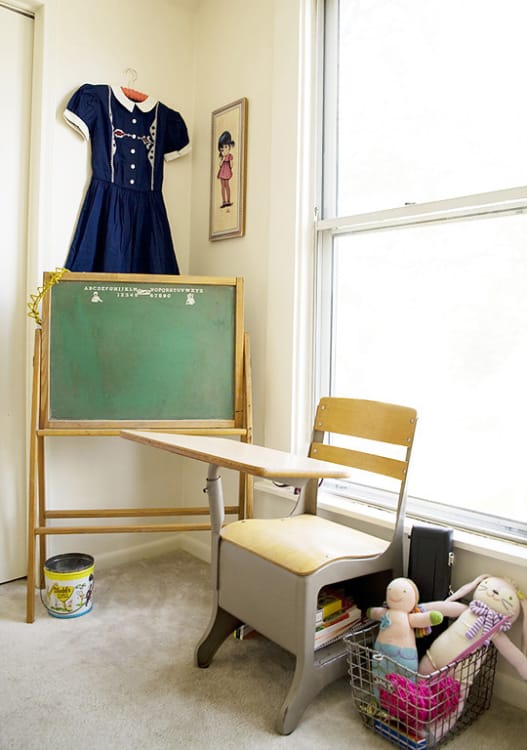 I still remember when my Mother-in-law gifted to me her cute little wooden hall table, when my Grandma gave me the huge oil painting she had painted some years back of traditional Spanish dancers, and when I inherited my other Grandma's dressing table. For someone who treasures beautiful things in the home, these were important moments for me. And they happened at different stages of my life: for the dressing table I was only 12, for the painting, 20, and for the hall table 27. How do you know when it's the right moment to pass something on to the next generation?
I think there are a few key questions to think about:
1. Is now the best time for you to give it? My mother-in-law was moving across the country when she gave me the hall table. It seemed crazy to her to take a table across country that she had a feeling she might pass on to me anyway. You don't have to wait to leave things like this in a will. If someone else you love will love it now, and you can't, maybe now is the best time to pass it on.
2. Do they really want it? We've all been guilty of pretending we like something in someone's home so we don't hurt their feelings if don't share their taste. Can we tell when someone else is doing this? Maybe not. But can we tell when someone really, truly loves and adores something we own? Definitely. If your daughter, son, niece, nephew is constantly going gaga over that little painting in the hall that you were thinking of giving to him or her, then chances are you've got yourself a winner of an heirloom.
3. Are they ready to take care of it? I inherited my grandmother's dresser at age 12, but I wish I had inherited it at 22. At 12 I stuck stickers on it, spilled nail polish on it, over-filled and was rough with the drawers on it. Look at the way your child/niece/nephew etc. takes care of his or her other things that are similar to what you are planning to give. Don't take my life as the marker - even if he or she is young, if the child is a careful, respectful child, today might just be the perfect day!
Have you pass on an heirloom recently? Or received one?

(Image: Bleubirdvintage / Milla's Cozy and Eclectic Small Space Room Tour)