Which Comes First, the Materials or the Installer?
Welcome to Wilsonart Wednesday! We've teamed up with the kitchen experts at Wilsonart to answer our readers' questions about kitchen renovation. We'll be posting the answers on Wilsonart Wednesdays all summer long, so ask your questions here and check back in for the answers!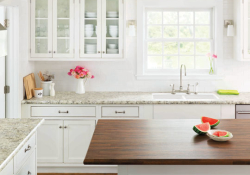 Q:
I'd like to replace my kitchen sink and the countertop. Where do I begin? Do I find the materials and then a person to install or the reverse? Thanks! - Katherine B.
A: Okay. You're ready to get that new kitchen countertop. How do you get started? The experts at Wilsonart have answered this question many times and have put together a guide to make this process easy.
There are five pretty easy steps between you and your new countertop:
Visit a dealer. Pick out samples.
Narrow down your options.
Order larger samples. Make a final selection.
Order your countertops.
Get your countertops installed.
Choosing an installer for your new countertops isn't much different from choosing any other professional home improvement specialist. There are several basic questions that need to be answered before any work begins. They include:
Is the installer experienced?
Have you had a chance to see some of his work?
Is the installer easy to deal with?
Does the installer have the appropriate insurance and contractor's license?
Will the job be finished in a timely manner?
Are the labor and materials covered under a warranty?
If you've visited your local home center or kitchen design center, they've probably already helped you pick out the color and pattern of your new countertop. They can now give you the names of the licensed and insured installers they use. The installers' work is most likely highly professional, or they wouldn't be on the retailer's preferred list. You can also check local listings under "Kitchen" or "Countertops".
You can find more helpful guidance like this from Wilsonart's experts on countertop.com.
(Image: Wilsonart)