Which of Your Favorite D.C. Show's Sets Is the Closest to Real Life?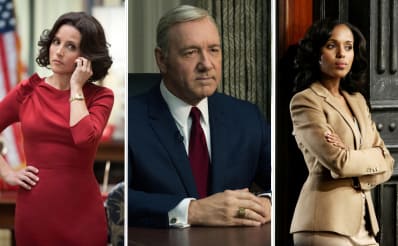 (Image credit: HBO / Netflix / ABC)
So many shows take place in our nation's capitol, but how many settings in them look like the real deal?
A recent article in the Washington Post had a tiny detail about HBO's Veep, which seemed to indicate that the comedy takes great pains to see to it that their set resembles real-life D.C. when possible. Veep, which recently premiered its sixth season, is about Selina Meyer (Julia Louis-Dreyfus), former Vice President and current flailing mess. Here's what the Post had to say:
[The day of the interview], [Timothy] Simons had two scenes as Jonah, the first at a studio on the Paramount lot mocked up to painstakingly resemble the fifth floor of the Cannon House Office Building — famously the worst offices in the Capitol — followed by a second at the Beverly Hills mansion.
Did you know what building was considered D.C.'s least desired offices? I sure didn't. Pod Save America podcast hosts (former Obama staffers) said in an April 10 episode that Veep is closer to their real-life D.C. experience than any other Washington-set show, like House of Cards or even The West Wing. This Washington insider ranking agrees. This is wild to me, because absolutely no one knows what they're doing in Veep, but at least people aren't constantly getting murdered like in ShondaLand or at the hands of Frank Underwood.
But how do these other shows stack up in terms of interior (and exterior) sets meant to be D.C.? The West Wing did a lot of D.C. filming, as does Scandal and House of Cards, mostly when it comes to outdoor and establishing shots. But when it comes to interior work, a lot of show runners are banking on the average American either not knowing—or not caring—about the actual layout of the offices of the president. According to the (unofficial) White House Museum, while The West Wing was "interesting and instructive," it's "not especially accurate in its layout" when compared to the real West Wing.
Per the (unofficial )White House Museum:
The series producers made the hallways much larger than the real thing and removed many walls and created large open office areas that don't really exist [in the real West Wing].
Scandal is shot almost entirely in L.A., which makes sense from a production standpoint. Even their exterior shots use a little movie magic to put the White House in the background of scenes.
While its opening credits showcase D.C., House of Cards does a lot of shooting in Maryland (particularly Baltimore). All the Capitol Hill and White House interior shots are filmed on a soundstage in Joppa in Harford County, Maryland.
Honestly, I've never been on a White House tour, so my concept of what it looks like is based solely on presentations in pop culture. That said, I'm glad Veep is taking some time and care into representing D.C. somewhat accurately when it can.