Own a Ranch-Style House? Good News, They're Ripe with Renovating Potential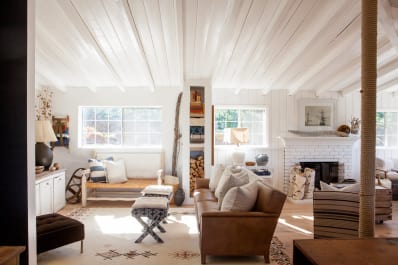 (Image credit: www.saritarelis.com)
When I heard that ranch-style homes were becoming the most popular style for homebuyers across the U.S., I wasn't exactly surprised. They're affordable, practical, and especially ideal for those who love friendly floor plans, large windows, and single-story living —not to mention that they often come with a nice-sized backyard to boot. Even better? This style can also be easily adapted to fit the needs and tastes of a modern homeowner —whether it's an aging Boomer, or a Millennial family just starting out.
(Image credit: Sarita Relis Photography)
Tracy Maxcy enlarged her home's existing great room and coated the walls and ceiling in fresh white paint to make everything feel even more airy and open. Wide plank wood floors warm the space. She kept that rustic feel by choosing furniture that has an artfully worn or handmade look.
For smaller homes, it might be necessary to reconfigure the floorplan to an open-concept. Renewal Design + Build maximized light with floor-to-ceiling windows, opening up the ceiling and keeping the walls white. The wood floor, fireplace mantel and the darker furniture keep the look from going in too stark of a direction.
Architect Eric Olsen also re-configured his California ranch's floorplan in order to create a great room for gathering the entire family in the heart of the house, knocking down some walls and raising the ceiling height. Earthy material choices — like over-grouted brick and reclaimed wood —read more organic and natural than mid-century.
In order to get a master suite —something alien to classic Ranch style houses —Eric also moved the garage to the front of the house to make room. Skylights and a huge window let in tons of natural light to the new bathroom.
Undoubtedly, many renovators will go in the open-concept direction, but Andrea and Chris's project proves that you can still have a feeling of spaciousness without a huge overhaul. The large pass-throughs beautifully frame interior rooms while allowing for maximum light. You'll definitely want to see the rest of Andrea and Chris's house tour.
Jodi and Jason Mockabee transformed their dark, brown lofted ranch for $15,000 and two weeks of work —much of which was cosmetic and went into the kitchen. When they found out they were expecting twins shortly afterwards, they converted the garage into another bedroom for their soon-to-be-born boys. You can see more of their before and after photos on Better Homes & Gardens.
If your house isn't already lofted, you can pay to do it yourself as Dana shares over on House Tweaking. She paid about $6K to get the gorgeous soaring vaulted ceiling seen here.