Why I Use Cleaning Concentrates Instead of Individual Bottles (and Why You Should, Too)
We independently select these products—if you buy from one of our links, we may earn a commission. All prices were accurate at the time of publishing.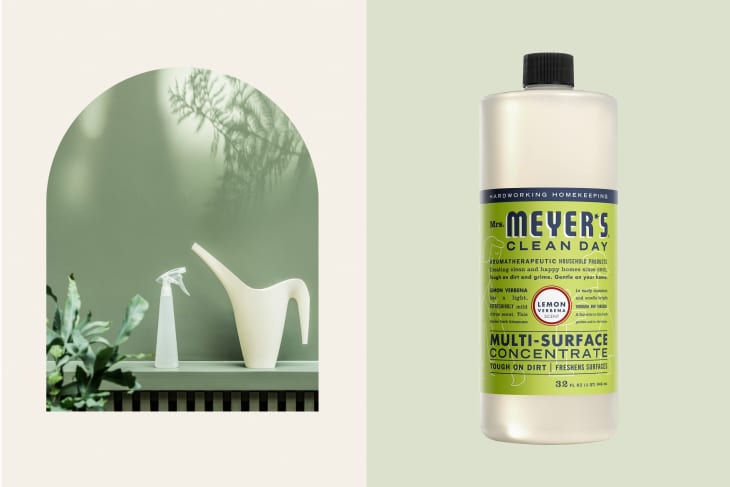 Every time I step into a cleaning aisle and see rows of multi-purpose cleaners in individual spray bottles, I face a dilemma. I can be tempted by all of the colors and scents — apple crisp, winter pine, spring jasmine! — and may even be able to picture how the bottle would look in my home. 
Follow Topics for more like this
Follow for more stories like this
But I don't cave in and buy these bottles. Instead, I look for cleaning concentrates for two main reasons: They're more affordable and help minimize waste. Let me explain why below. 
How I Save Money by Buying Concentrate
An individual bottle of cleaner costs me anywhere between $3 and $6, depending on the brand. I lean toward plant-based cleansers, which are gentle on my countertops and better for the environment, and the price reflects that. But these single-use bottles tend to run out quickly. I'm a big believer in the "clean as you go" method, and with a household of four, we end up cleaning a lot. The beautiful bottle inevitably ends up in the recycling bin in no time, and I'm back at the store again. 
Once I got savvy to concentrate cleaner, I noticed my initial cost went up. The concentrate alone is almost $10 for a large bottle (I like this Mrs. Meyer's Multi-Surface Cleaner Concentrate). I also had to source a reusable spray bottle, although you could salvage an empty one if you have it. As it turns out, the reusable bottle of concentrate lasts much longer than the alternative, because I'm diluting just one to two tablespoons in water at a time. 
I broke down some numbers to see how much I was saving. Let's say I buy an individual bottle of cleaner for $3.99 a month for a year. That's almost $50! Now imagine I buy just two bottles of concentrate at $8.99 a piece, and that lasts the entire year. Including the cost of the initial reusable spray bottle — like this one for $1.99 from IKEA — that all comes out to under $20. Not only am I saving $30, but I'm also cutting down on grocery store visits. 
How I Reduce Waste by Using Concentrates
A big part of my switch to concentrate, however, has nothing to do with money. According to Earthday.org, humans use about 1.2 million plastic bottles per minute — and approximately 91 percent of plastic is not recycled. That means that if they're not reused, all those seemingly cute plastic spray bottles will likely end up in a landfill. Committing to reusing a spray bottle or buying a glass one is an easy way to reduce plastic waste in your household. Although it's not a cure, it's a step toward a more sustainable future. 
Switching from single-use cleaning spray bottles to concentrate was simple for me. Although the upfront cost was more, I ended up saving money in the long run. More importantly, I introduced a planet-friendly habit into my household. I suggest taking the plunge into the world of concentrates for anyone who wants to cut back on plastic use and save money. 
Spring Cleaning Cure 2023
Get your home tidy and clean with 10 simple tasks — it all begins April 12.