Win: $100 Gift Basket from Waterpik®!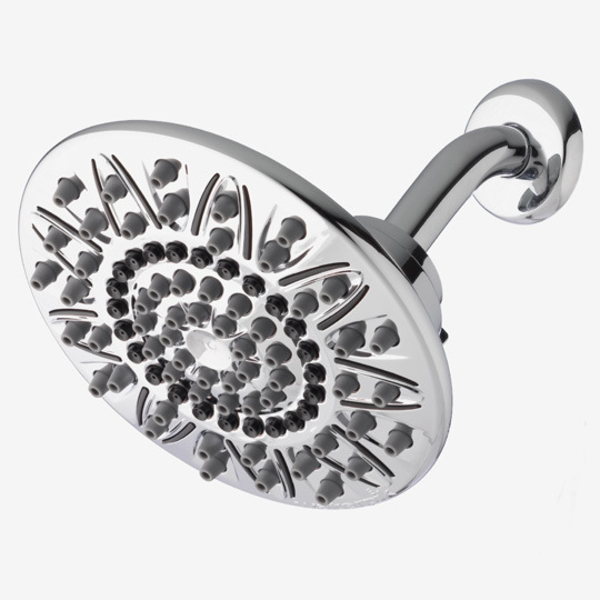 Item:
$100 Gift Basket (5)
From:
Waterpik®
Value:
$100 (each)
Creating a spa-like sanctuary at home is a simple way to instill quiet and calm in your day. Any bathroom - big or small - can become an instant relaxation zone. To help you get started, Waterpik® is giving away five gift baskets, including a Waterpik RainFall+ showerhead (easily installed in 5 minutes!), gift card, and bath accessories. Simply enter below for your chance to win.

Enter for your chance to win one of five gift baskets from Waterpik!

The Waterpik RainFall+ Showerhead
Waterpik's variety of beautifully designed, high performance showerheads provide a quick way to create a spa-like experience in your bathroom. Even at low water pressures, Waterpik showerheads with OptiFLOW® technology can improve water force up to 30% by more efficiently channeling the water - giving you a more powerful shower experience. What's more, the RainFall+ showerhead provides 7 high performance spray modes - from invigorating full body coverage to relaxing pulsating massage - so you can customize your shower, your way.
How to Enter:
To enter to win one of five gift baskets from Waterpik valued at $100.00 each, please fill out the form below. The contest begins Thursday, April 18, 2013, and ends Friday, April 26, 2013 at 11:59 p.m. ET. We will choose five winners at random. (Check out the Official Rules here).
Four Tips To Building Your Own Relaxation Oasis
coco + kelley
, shares some tips to get you started:
No matter the size of your home - a tiny studio apartment, or your mini manse - creating an area within it that's all about relaxation is hugely important for a little body, mind and soul therapy. I believe that of all the areas in the house, your bed and bath should do just that. So, I've put together a few tips for where to start in the process of transforming these rooms into your little oasis of happy.



When you think about it, the bath is really the best escape in the house, so why not really step things up by swapping out your current shower head with a rain shower for true indulgence? I love the RainFall+ shower head line from Waterpik. Easy to install and with plenty of spray setting options to match your needs. It's a quick change with a great impact!
Believe it or not, adding plants to your home is one of the best things you can do for your personal environment. I love them because they soften the corners of the home, and add interest to bookshelves and tabletops, but on a practical level, they also serve to help clean the air! There are some great guides that exist to tell you which houseplants are the most effective in serving double duty as decor and air purifier, creating a relaxing and healthy space for you and your family.
Life's little luxuries certainly make all the difference, so while we're working on creating a little escape in the bed and bath, might I recommend some new sheets and towels? A little refresh of both of these can be a wonderful treat, and there are so many options out there these days for organic, plush linens.
One trend we've seen plenty of this spring are textiles and colors that reflect ocean hues and watery designs. What could be more relaxing than a little bit of the beach in the home? Start with a soy candle with an ocean scent, add a dreamy hand-loomed raw silk pillow made by artisans to your bedroom, and use a locally-made basket to store your bath towels in. Complete the look and feel with a river rock bath mat (trust me, it's like a mini-massage for your feet!).
Want more product ideas? Visit waterpik.com to learn more about Waterpik's showerheads.

(Images: Waterpik)
Comments have been disabled.