Win: A $1,000 Shopping Spree on domino.com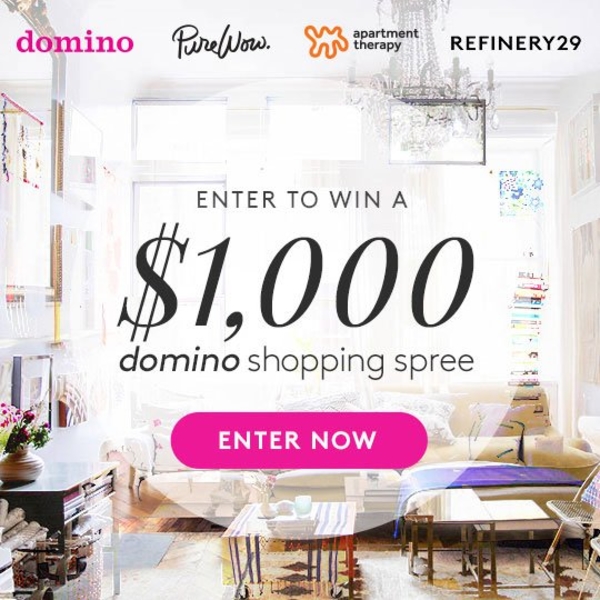 Grand Prize: $1,000 shopping spree on domino.com
Runners-Up: Five runners-up will receive a one-year subscription to domino magazine (a $47 value)
From: domino.com, via PureWow, Refinery29 and Apartment Therapy
If you've been lamenting the loss of domino — and we all have — then you will be as thrilled as we are to learn that the magazine has relaunched online. And alongside original editorial content is an online shop of more than 30,000 items, where you can source and buy the very home decor you're admiring in the gorgeous photo spreads.
In honor of this exciting new development, we've gotten together with some of your favorite sites to give you the chance to win a $1,000 shopping spree on the new domino.com. That's enough to get your home ready for its close-up!
About our partners:

PureWow is the daily email to help you elevate the everyday, featuring the very best finds in food, travel, fashion, beauty, tech and design. Think of PureWow as the savvy friend who knows the next book you should read, the must-have jeans, and the purse that holds your keys and charges your phone. (Trust us, it's a lifesaver.)

Refinery29 is the lifestyle destination that delivers nonstop inspiration to live a more stylish and creative life.

domino.com offers everything in home decor, from inspiration to furnishings and accessories. With tours of celebrity homes, before-and-after features, and profiles of famous interior designers, domino.com is also your fully shoppable design marketplace. domino is your guide to living with style.
Comments have been disabled.