Win: The Handsome, Statement-Making Maxwell Double-Chaise Sectional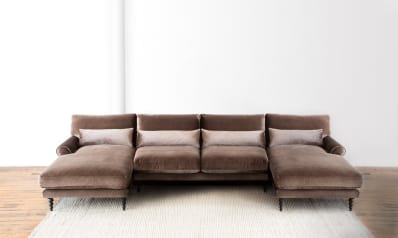 Prize: The Maxwell Double-Chaise U-Sectional
Total Value: $3,200
From: Interior Define
Doesn't that look like the most delicious sofa in the world? I got this pic of the new Maxwell Double Chaise last month and my jaw dropped. While I'm super proud of the Maxwell design, I had no idea it could be transformed into this giant icon by the Interior Define team. This whole chaise and double-chaise thing is new to me, but I would build a living room around this if I could. You can too, because to celebrate the launch, they're giving one away.
The double chaise has the same playful shape as the rest of the family: curved arms for nappers, an angled back for reclining, a nice deep seat, and that cute little spooled leg. So what's the U-sectional got? Another chaise! This small nation of a sofa has two chaises with a double-seater between them. The total width comes in at 127, 131, or 135 inches and almost as many sitting/napping configurations.
(All the dimensions are here, but FYI the seat is 18" off the ground and the back, 31". The chaise is 63" long.)
Though I've designed this sofa with my own home in mind, you can make it your own. Switch stuff up. Experiment. Both the legs and fabric are customizable. If the spool leg isn't your thing, you can choose a more restrained taper or a Sloan leg in various materials, wood and metal. Likewise, fabric material and color is your call: Choose from Greige, Coral, Rain, or 42 others.
The choice is yours, but you have to enter this week!
How to Enter
Enter to win any one piece from the Maxwell collection from Interior Define by filling out the form below. (Comments are great, but you must complete the form below to enter!) The winner will receive a credit at Interior Define to be applied toward one sofa; that credit may be used toward any piece of the Maxwell collection, but will be valued up to the full price of the double-chaise sectional ($3,200). The credit must be used in one single purchase. Any returns will be refunded minus any restocking fee. Credit must be used by August 1, 2017. Fabric and leg type are the winner's choice. The sweepstakes begins February, 3 2017 at 10:15am ET and ends February 9, 2017 at 11:59pm. By entering to win, you are accepting the official rules.