10 Things I Wish Somebody Told Me Before I Bought an Airbnb Property
We independently select these products—if you buy from one of our links, we may earn a commission. All prices were accurate at the time of publishing.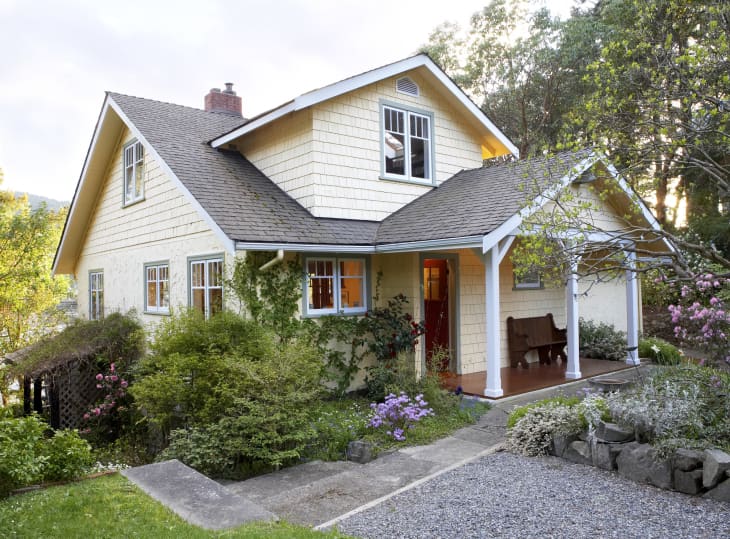 When my husband and I bought a cottage on a river near the Chesapeake Bay two summers ago, renting it out was part of the equation to make the numbers work. It was a dream location for me, and while I knew we wouldn't be there every weekend, we could justify having it if we listed it on Airbnb. It seemed like a casual proposition: We'd throw some photos up on the rental site, get a few bookings, and use the earnings to help cover the mortgage and upkeep.
It's turned into more than that, however. Since then, I created an Instagram account to chronicle our ongoing renovations. And because of that Instagram, I've met so many people in the community and welcomed more guests than I ever could have imagined.
It has also been and continues to be an incredible amount of work — rewarding work, but work nonetheless. There's maintaining the house, communicating with guests, marketing, taxes, property management, and the list goes on. Yet at least weekly, I receive DMs from people asking if they can pick my brain about buying a short-term rental for passive income. 
I have no doubt there are passive income hosts out there. Yet the community of short-term rental hosts I've met are anything but passive, and they have stunning properties that they pour their hearts into. So I asked them for the things they wish they'd known before launching their homes, and here's what they said.
1. It's a hospitality business.
"​​There's nothing passive about this business," says Kaylee Taylor of Lake Glenville Cottage in Glenville, North Carolina. "A well-maintained home takes work, and making a memorable vacation for your guests takes work." 
She reasons there's the marketing, accounting, and management of the team. Even from afar, there are all the thoughtful touches to stay on top of, plus needing to make sure that the experience remains in line with your vision.
"I think to sustain a successful vacation rental business, you need to truly have a love for hospitality," Taylor says. "If you have that, the stories from your happy guests will motivate you to continue."
My husband and I manage our own property, which means it's an incredibly hands-on process — from answering phone calls in the middle of the night (my phone is never on mute!) to doing paint touch-ups between guests.
Some of that can be avoided by hiring a property management company, but assuming you are invested in the guest experience, you still have to take an active role. The property management team is the boots on the ground, but they're typically not responsible for ongoing maintenance. Jennifer Little of Beacon Bay Getaway in White Stone, Virginia, explains, "We have a great management team and cleaning crew, but you have to still be checking in on the property and making sure all the bases are covered."
3. You can't please everyone.
We've had requests for everything from blackout shades on our sunroom windows to a pasta maker. While some requests are helpful — for example, I don't have a dog, so requests that make those guests' lives easier are great — I've also realized you can't please everyone. 
Little adds that she and her husband have had to navigate this lesson, too. "Perhaps a guest would prefer a firmer pillow or lighter blanket on the bed, but you can't please everyone. Rolling with the punches and being flexible is key," she explains.
4. Some properties are higher-maintenance than others.
This is always my number-one piece of advice. Why? Because we bought a high-maintenance property — and low-maintenance properties definitely exist. I tell people that if our cottage wasn't something we planned on keeping for ourselves for decades to come, it wouldn't make sense to put so much work into. Because of the land, location, and age of the house, nearly every dollar we earn goes back into it. Every time we're there, we're tackling projects. 
I've learned about coastline remediation, algae on white siding, and the many pests that can attack rose gardens. This is all to say that if you want low-maintenance, look for a small yard, a smaller, newer house, and a location that isn't going to be fighting the elements. 
I spent a lot of time and effort decorating and DIYing projects throughout the house, and people always ask if I'm scared of guests ruining it. I'm not, but it's because I expect them to. Everything is replaceable. It's just stuff — it's fine.
6. Look into the local regulations.
Zachary Whitman of Rooted Land Company in Madison, Virginia, lives on the same property where he also rents out a farmhouse. He explains that some cities are making it more challenging to enter the market. 
"It's important to research local lodging policies and taxes prior to investing in a home or listing your current home," he says. "It's also important to gauge the appetite and sentiment that the community has towards short-term rentals and tourism." While looking into current regulations should be your first step, going further into county board meeting notes could provide a glimpse into whether regulations could be coming imminently. 
7. Understand the market.
"Our area has grown from a handful [of rentals] to hundreds of short-term rentals during our three years of hosting," says Whitney Bradberry of Front Range A-Frame in Bailey, Colorado. She explains that listing a home on Airbnb is easy, but you have to stand out to find success. That includes investing in the design and hospitality. 
"We spent more time and money on the initial remodel and amenities than expected," she says. "Still, I'm grateful we invested in the guest experience because as the market becomes more saturated and the economy fluctuates, our rental continues to succeed."
I understand this one all too well. "Budget … what budget?," asks Jenny Power of Cornerstone Cottage in Maine near Acadia National Park. As she's renovated a historic farmhouse in an area where she grew up visiting, she's found that getting contractors has been difficult. While they've ended up DIYing many of the projects, the costs are still through the roof.
"The cost of buying a short-term rental is one thing, but the cost of owning one is another. The repairing, furnishing, stocking house supplies, hiring housekeepers, landscaping, and upkeep of the property are costs that people do not factor in," Power says. She notes that they ballooned their expected budget by four just to get it open the first year, and they continue to make updates and fixes to the property. 
9. Get to know your neighbors.
We're lucky that we actually knew a few of our neighbors before buying our cottage, and we still had to navigate conversations early on telling them our plan to rent it out. Having friendly relationships with the neighbors, as well as getting to know the larger community and referring guests to local businesses, can make a huge impact. 
Bradberry relays a similar message, but with other hosts. "Create a supportive community. Hosting isn't passive, and while rewarding, it can be exhausting. Pass the keys to a co-host while you take a weekend off to recharge. Laugh and commiserate with other hosts. Build that network!" she says.
10. It can all be worth it.
Like with anything, the effort has a pay-off. These bookings are far from transactional, which is another thing I didn't expect. When I receive a thankful message from a woman who brought her 90-something, former Navy father because he wanted to sit by the water for a few days, or I see photos from a group who spent Easter with their family hiding eggs and shucking oysters, it's heartwarming to know I can share all of this hard work with people who appreciate it.
Power expresses a similar sentiment: "In the end, after all the budget headaches, after all the stressful nights of trying to organize repairs, hearing the sweet messages somehow wipe all the other stuff away. Just knowing you created a space where memories were made, where laughter and smiles were too many to count, is fuel to keep going."