Would Two Time Zones Be Better Than Four?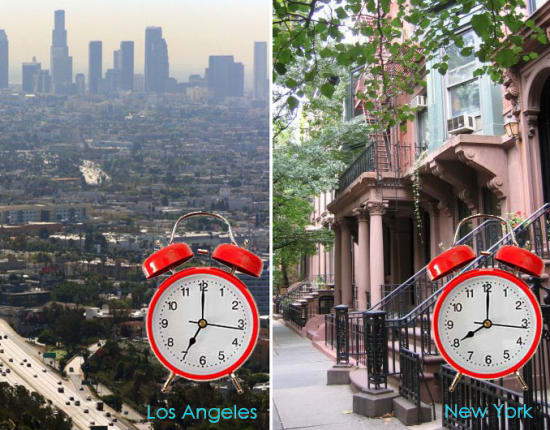 With four time zones across the continental United States, our work days and even home life look quite different depending on where we live. On the west coast, you might rise early to keep hours that have as much overlap with the east coast as possible. In the central time zone, it's possible you do everything exactly one hour earlier than on the east coast, from eating lunch to watching primetime television:
In a recent article in The Atlantic, author Allison Schrager touches on a proposal for a two-time-zone nation:
"This year, Americans on Eastern Standard Time should set their clocks back one hour (like normal), Americans on Central and Rocky Mountain time do nothing, and Americans on Pacific time should set their clocks forward one hour. After that we won't change our clocks again—no more daylight saving. This will result in just two time zones for the continental United States. The east and west coasts will only be one hour apart."
Related to the recent close of another Daylight Savings Time, the two-zone proposal has several apparent advantages to our current time zones. What do you think, west coast, about the idea of being only one hour behind the east? What do you think, east coast, about being only one hour ahead? What pros and cons do you see with a two-time-zone system in your daily life?