This Versatile Counter Accessory Prevents Kitchen Towels From Becoming Soggy and Gross
We
independently
select these products—if you buy from one of our links, we may earn a commission. All prices were accurate at the time of publishing.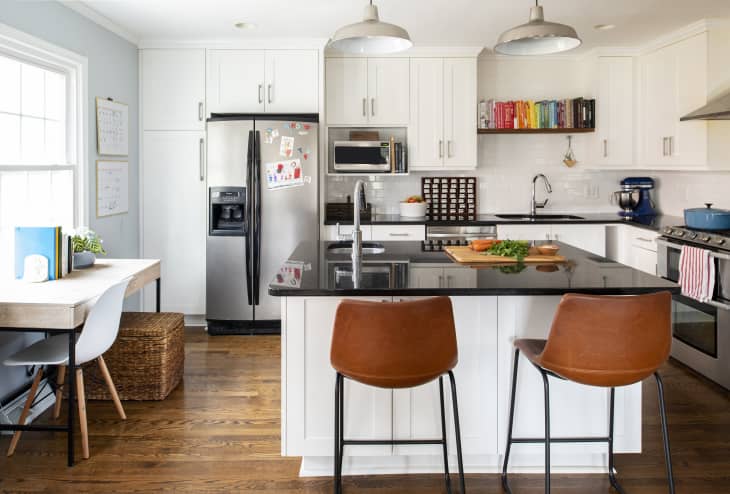 It goes without saying that washing the dishes is one of the most tedious chores out there. If, like me, you rarely use your dishwasher — or you don't have one at all —you probably find yourself at the sink, scrubbing away, up to five times a day. It's unpleasant for many reasons: when you accidentally touch a soggy piece of food (I shiver just thinking about it), when the burn marks on your pans won't lift, or when the dish soap leaves your hands feeling painfully dry. And, we can't forget about dish rags, which are a whole ordeal in themselves. They're so helpful for wiping down the faucet, backsplash, and surrounding countertop after a wash sesh. But, then what? You're stuck with a sopping wet towel that might take hours to dry. I usually put mine on the side of the dish drying rack, but this has proven to be ineffective, as the towel often falls off on its own or gets trapped between heavy plates.
The good news is that just like there are racks for drying your dishes, there are also, of course, racks made specifically for kitchen rags. One of the best hangers on the market is this one from Yamazaki Home. With Japanese-inspired designs and a tendency to make customers' lives way more efficient, Yamazaki organizers are always a smart investment. (We've covered their awesome products numerous times.) And, this piece is no exception.
Now, the dish rag issue I just described might seem like a pretty mundane problem. But, you don't want to mess around when it comes to kitchen cleanliness. Having worked at a restaurant for four years, I can tell you that reusing wet, balled-up rags to wipe plates and other surfaces is one of the quickest and easiest ways to spread bacteria. This hanger allows your dish towels to dry between meals, so they're ready to go again by the time you finish lunch or dinner. And, whereas most racks just hold one towel, this one has three horizontal bars for multiple cloths. Despite this, the hanger is slim and compact, so it won't take up too much counter space in small kitchens. It's also sturdy and stays put. "Great solution for keeping kitchen and utility areas neat," one reviewer wrote. "Love that it's metal, durable, easy to clean, and looks great."
In addition to all these positive qualities, you'll be happy to hear that you can use the dish towel hanger for other functions, too — some Yamazaki shoppers noted that they use theirs as a cutting board holder. The hanger also comes with hooks that you can attach to its bars for things such as sponges and oven mitts. So, snag this product now and get ready to make your life easier.