One of Our Favorite Organizing Brands Is Having a Rare 40% Off Sale on Space-Saving Kitchen Solutions
We independently select these products—if you buy from one of our links, we may earn a commission. All prices were accurate at the time of publishing.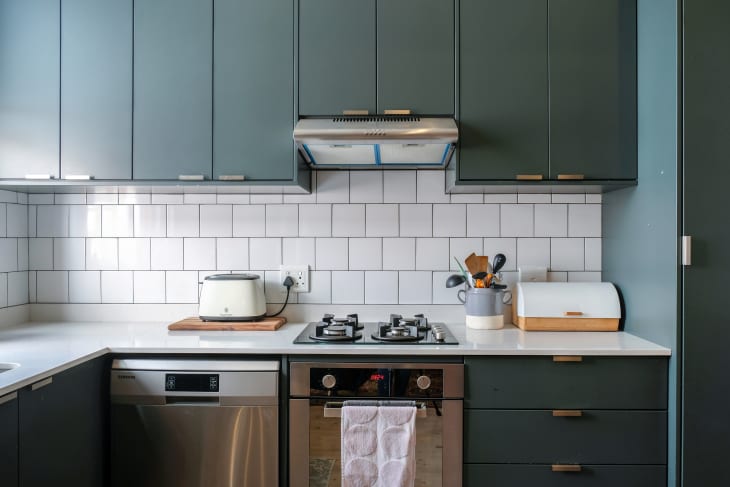 A clean and organized kitchen is a recipe for success! And when it comes to the products that help us do just that, few companies make us sigh with delight like Japanese home brand Yamazaki. We've written about their understated but functional kitchen storage products before (including this clever expandable rack), and have been longtime fans of their clean, streamlined designs that maximize space and functionality without being an eyesore. And with so many of us looking to curtail the clutter in our currently overused kitchens, Yamazaki's Home Spring Sale couldn't have come at a better time. Right now, you can score select storage and organizational solutions for a whopping 40% off! Featuring space-saving items for cabinets, countertops, and living spaces, the pieces will help you declutter your kitchen and get your pantry in shape. We've rounded up our favorite picks below, but be sure to browse the entire sale here!
Follow Topics for more like this
Follow for more stories like this
1. Large Under Shelf Storage Rack
Clear the clutter from your countertop once and for all with this storage rack that cleverly secures below an open kitchen or pantry shelf. It can hold a little over four pounds, which is enough to stash a lineup of food wrap, foil, reusable bags, folded napkins, or your go-to cookbook. A short dowel and several removable hooks are perfect for displaying measuring cups, dishcloths, or serving utensils.

Buy: Large Under Shelf Storage Rack, $20 (normally $33)
2. Airtight Food Container with Measuring Cup
I wish I'd had this slick canister before the huge bag of flour I've been rationing split down the side! Measuring just over 6 inches deep and about 11 inches tall and wide, it will hold a lot of whatever you store in it — whether it's dry goods like rice or quinoa, or even a few bags of powdered supplements for smoothies. The hinged lid opens completely for easy access and has a rubber ring to keep contents air-tight. Plus, the canister comes with a handy measuring cup so you'll never have to drawer-drive to find one! 

Buy: Airtight Food Container with Measuring Cup, $20 (normally $33)
3. Expandable Drawer Organizer
This customizable organizer will instantly help neaten up a kitchen or junk drawer (it's ok, we all have one). Though not quite big enough to fit a set of utensils, the lower level can be expanded to fit tools like peelers, small spatulas, and thermometers. A smaller acrylic tray nests on top — and can be slid aside — and would be good for storing bag clips or a wine key. 

Buy: Expandable Drawer Organizer, $13 (normally $22)
4. Geometric End Table
Even the smallest of homes could find a place for this geometric end table, and we can think of a dozen uses for it: Place one by the couch to hold your laptop while you're on work calls, or put it by an armchair to hold a glass of wine and snacks while you unwind after a long day. The lightweight, airy frame moves easily and can be styled with a stack of books or a small potted plant. It's cute, functional, and only $42 on sale!

Buy: Geometric End Table, $42 (normally $70)
5. Glass & Mug Tree
Though it resembles something you'd store jewelry on (and you can certainly use it for that!), this tree's branches and base are sturdy enough to hold the weight of your favorite mugs or glasses. It works just as well for displaying as it does for drip-drying drinking vessels after handwashing, and a lip on the base neatly contains runoff. The tree disassembles into three parts for easy storage between uses, though it's certainly nice enough to leave out!

Buy: Glass & Mug Tree, $9 (normally $15)
6. Over-the-Cabinet Towel Bar
This towel bar is an example of what Yamazaki does best — cleverly utilizing unused space to squeeze in just a little more functional storage. With a neutral white frame that secures onto under-counter cabinets and a natural wood dowel, the towel bar keeps a kitchen towel or rags within reach when you need to dry your hands or grab a hot pan.

Buy: Over-the-Cabinet Towel Bar, $11 (normally $18)
7. Pour-over Coffee Stand
Pour-over enthusiasts know: When your filter setup is placed directly on top of your mug, it can be hard to tell how much water you've added until you have an overflow situation. This small, foldable stand is long enough to accommodate two pour-over coffee stations and gives enough clearance so you can keep an eye on your mug. After you're done using it, it folds flat for easy storage.

Buy: Tosca Pour-over Coffee Stand, $14 (normally $24)
8. Under Shelf Utensil Holder
9. 3-Section Dish Storage Rack 
Stacking dishware can cause chips and scratches. This vertical storage rack isn't just a space-saver inside cabinets, the lower crossbar is padded to protect your dishes. With a geometric shape, it has three sections for separating salad, dessert, or dinner plates, and could also be used to organize storage container lids or small cutting boards. 

Buy: 3-Section Dish Storage Rack, $15 (normally $25)
10. Storage Caddy | Large
This caddy has two large and four small compartments for holding toiletries or first aid supplies in a bathroom but would work just as well under a kitchen sink for brushes and cleaning solutions. The long, narrow design can fit into tight spaces, and the generous handles make it easy to grab for quick access.

Buy: Storage Caddy, $18 (normally $30)