This Chic Organizer Will Instantly Declutter Your Kitchen and Free Up Counter Space — and It's 15% Off for Cyber Monday
We
independently
select these products—if you buy from one of our links, we may earn a commission. All prices were accurate at the time of publishing.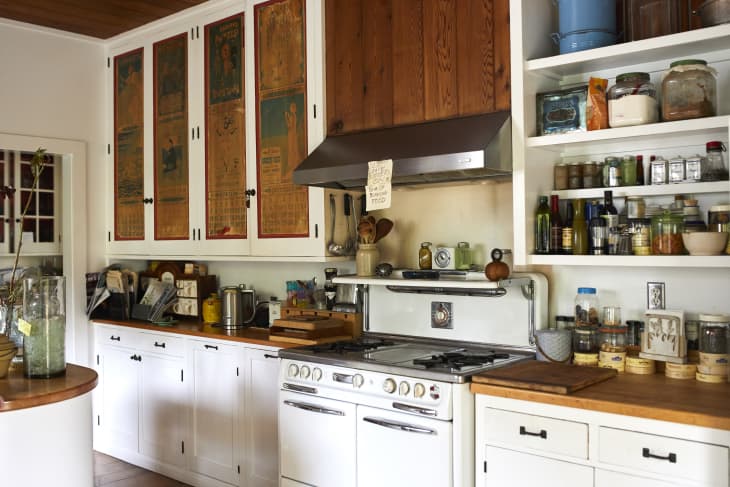 Having had roommates for basically my entire life, I'm familiar with the frustration that comes from sharing a kitchen. This feeling is often compounded by the fact that the kitchen in question has usually been quite small. At Apartment Therapy, we like to work with what we've got, even if that means a less-than-sprawling kitchen space. We've shared editor-loved kitchen organizers, as well as other inexpensive solutions for storing culinary essentials. This time, we have a remedy for crowded counters in the form of TOSCA magnetic organizer from Yamazaki. And best of all? Yamazaki is having a Cyber Monday sale (today only!), and everything is 15 percent off.
In my experience, it can be challenging to find open terrain on a counter already housing a Keurig, a Brita, an electric kettle and a countertop griddle. And you shouldn't have to seek out another place for your beloved blender or stand mixer for the sake of finding a spot to chop vegetables. With this magnetic organizer, which sticks right onto your fridge, you can eliminate some of your more mundane items from the counter but still keep them within easy reach.
This multipurpose storage rack features an arm for holding paper towels, a shelf with six hooks, and a bar for hanging things. As its name implies, the organizer attaches directly onto the refrigerator via magnet, no assembly required. In terms of what you can glom onto it, well, the possibilities are endless. "Awesome, does exactly what you want it to," one customer shared. "Holds spices, dish rags, paper towels and looks good doing it." You can also rest assured knowing that the organizer — which is made from wood and steel — will stay put. "Magnets are strong enough to hold heavy oil bottles, soy sauce, glass jars and more," another happy reviewer shared.
In addition to fulfilling its functional promises, the TOSCA magnetic organizer also looks aesthetically appealing thanks to its clean, Scandi-inspired design. Constructed with white steel and modern wooden accents, it's bound to fit right in with your kitchen aesthetic or, at least, not detract from it. "The design looks small, but I was pleasantly surprised by how much space it created," a customer shared. Another shopper characterized her new buy as, "Beautifully functional!" And if you're not keen on securing the organizer onto your fridge, you'll be glad to learn that the rack can, in fact, be mounted onto the wall (though it does not come with screws).
It seems as though, overall, previous buyers' expectations were matched and even exceeded by this stylish magnetic organizer. If anything, some expressed surprise over how small it is despite being able to fit so many things. For our purposes, that's the opposite of a problem. Sometimes, space-saving calls for a bit of strategy, and this item has the potential to be your greatest ally! And with 15 percent off right now for Cyber Monday, you've got nothing to lose.