The Adulting Bookshelf: 6 Books on Getting Your Life Together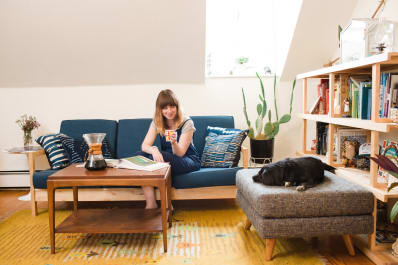 Years ago, a friend of mine who was way more responsible and together than I, gave me a copy of this book. Essentially a very readable guidebook to personal finance in your twenties and thirties. It covered so much need-to-know stuff ranging from insurance coverage to the basics of investing for newbies. It was immediately clear, this was a book I didn't know how badly I needed, until it was in my hands. I doubt I would have picked it up on my own accord, because, truly, I wasn't the most forward thinking version of myself at the time, but, I've been supremely thankful to that dear friend ever since.
Because, however you feel about the concept of "Adulting," and people do feel, that book helped me to do some legitimate version of it, that was seriously worthwhile. And really, it's not all that hard, but since it definitely involves more than using the stove to make your own dinner and covers way more territory than personal finance, we've rounded up a collection of helpful books for anyone trying to get their grown-up game together. Whether it's navigating relationships, work stuff, or tending to your self-care scene, there's guidance to be had here. And for those who prefer to swallow the sometimes bitter pill of adulthood with a strong dose of humor and irony thrown in, those books are here too; because funny is also helpful - sometimes more so than anything else, when you're an adult and having a day.
This book is a wide-ranging guide on "doing" adulthood for beginners. Author Kelly Williams Brown delivers tips and advice gleaned from her own experience, as well as from others who would know…about such things. Her mechanic offers solid advice on shopping for a used car, and the Domesticity section has the 411 on using household bleach properly - all of it delivered with no shortage of good humor.
This title by Arden Rose is, like the Adulting before it (sort of), varying parts useful and entertaining.
Designing Your Life was born out of a super popular Stanford University class by the same name, and taught by authors Bill Burnett and Dave Evans -both Silicon Valley veterans, this one is definitely more career oriented. Most intriguing is the approach they advocate; using design principles and theory to create the life you crave.
Author Heather Havrilesky pens the beloved Ask Polly column that inspired this book. A self-described "struggler by nature," she covers so many modern day dilemmas plaguing the struggler in all of us, from over-sharing to internet dating. She tends to go long form with her advice, which is so good because the kinds of complicated life questions that prompt people to seek out advice like this to begin with, require it. In my book she is right up there with the Dear Sugar Radio podcast for where to turn, when you must.
Like the personal finance book I received from a friend, this guide, by author Cary Siegel is to the point, totally practical, and goes down easy.
All the funny… Brooklyn-based artist Sarah Andersen, offers comic relief from all the serious adulting.
What are some great books you've turned to for grown-up guidance?
Apartment Therapy supports our readers with carefully chosen product recommendations to improve life at home. You support us through our independently chosen links, many of which earn us a commission.