Zara's Neutral with a Touch of Glam Nursery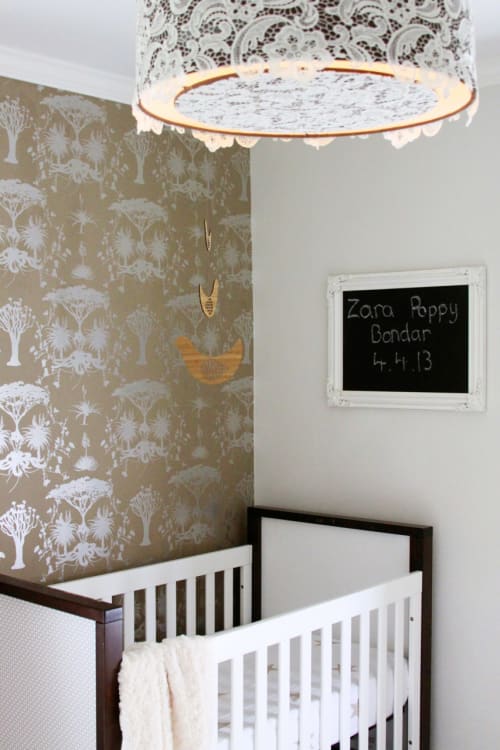 Name: Zara
Location: Minneapolis, Minnesota
Zara is our third child so I had already experienced decorating two other bedrooms prior to her birth. After using bright colors for the 2 other rooms I knew, even before knowing the sex that I wanted this room to have a calm, neutral palette.
I really wanted this room to have a sophisticated vibe, with touches of glam. We didn't want to repaint the room so I had the idea of doing just one wall in wallpaper. I found the wallpaper on sale from Anthropologie, the colors were perfect. I had an existing chocolate brown ceiling light from my other daughters room that I wanted to re-use, however I was worried it would be too dark so I softened it by covering it with lace.
I also did some DIY on the drawers and the crib, the drawers were looking very tired so I covered the side and top panels with some shelf paper from Chic Shelf Paper (I love this site). To ensure a more cohesive look I used the same paper to cover the ends of the crib, now 2 unrelated pieces of furntiure looked like they were from the same suite.
I copied the chalkboard frame idea from an Etsy site selling vintage frames that they repurposed as chalkboards. I found my frame for a bargain price from World Market. The photo frames are from West Elm, I love how the linen in the frame co-ordinates with the wallpaper and the frames have the glam look I was going for. I had a lot of trouble finding curtains but I stumbled on these from Ikea and they were perfect and cheap!!
Overall I love how the room turned out, it's a room that she can grow with.

Thanks, Nicole!
(Images: reader Nicole)