5 Ways to Be a Little Greener This Holiday Season
We independently select these products—if you buy from one of our links, we may earn a commission. All prices were accurate at the time of publishing.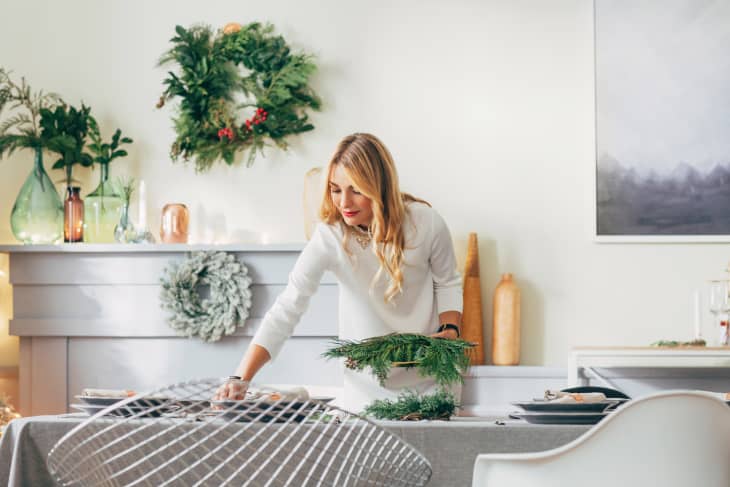 The holiday season can be a go-big kind of time. We travel miles and miles in planes, cars, or trains to visit our loved ones, indulge them with gifts, and feast away on cookies and eggnog. It's all in good fun—but can make for a lot of waste (and a significant carbon footprint).
Follow Topics for more like this
Follow for more stories like this
This year, challenge yourself to pare things back. There's a way to do everything waste-free, and the holidays are no exception. Here are five beginner-friendly tips to that will help you get closer to a zero-waste holiday season.
Choose a real tree over an artificial one
If you celebrate Christmas, staying waste-free starts with your tree. While real and fake trees both have environmental impact, using a real tree is the eco-friendlier option by far—especially if you can score one that's locally grown. While Christmas tree farms take up valuable land space, artificial trees require considerably more resources to produce (like plastic, steel, aluminum, and of course, cardboard packaging), and when you're ready to get rid of them, they get sent to the landfill. Real trees, on the other hand, can be composted, and if you buy them organic, they're grown without the use of pesticides or insecticides, making them a far better choice all-around.  So, if you're looking to stay waste-free this year, a real tree is by far the best way to go.
Ditch the ornamental plastic balls. It's totally feasible (and super fun!) to get into the holiday spirit using solely compostable materials. Place whole dried cranberries and popcorn on a length of biodegradable string or twine, and hang them around your tree in lieu of beads or lights. Make little decorative wreaths out of twigs of rosemary or branches from your Christmas tree. Collect clean pinecones from outdoors and string them onto biodegradable twine to make garlands.
There are plenty of all-natural, do-it-yourself ways to keep your home looking cheery this December. Another easy way to be a little greener? Bring your own reusable bag when shopping for materials, and store and reuse or compost the finished decorations when the holiday season comes to an end.
Keep your parties plastic-free
Hosting friend and family get-togethers is a staple of the holiday season. But big parties can quickly become wasteful if you're not careful. This year, keep zero-waste principles in mind when having people over. Serve dishes made at home, rather than buying pre-cooked meals. Cook from scratch using ingredients purchased from bulk food stores—and bring reusable containers and bags with you when you stock up. Consider what beverages you might be able to make at home, like tea, hot chocolate, and eggnog made with milk from reusable glass bottles.
Alcoholic refreshments are harder to do waste-free, but sticking to bottles of wine or beer—rather than serving aluminum beer cans or boxed wine—is probably your best bet. The bottles can either be returned to distributors to be used again, or they can be turned into soap dispensers and decorative vases for use right at home. And if you need extra dishes, skip paper plates and cups. Instead, thrift ceramic plates and glasses, or borrow from a friend or neighbor.
Go waste-free with your gifting
It's admittedly difficult to avoid plastic and excessive packaging during the holiday season. Online shopping rates are known to peak during the weeks before and after Christmas, and those big cardboard boxes come stuffed with plastic, paper, and styrofoam peanuts that will inevitably get thrown away. Avoid this excess packaging entirely by making gifts for your loved ones this year. When you go DIY, the possibilities are endless: Make your grandparents a batch of their favorite cookies, knit your siblings scarves, or send your friends online gift cards. Whatever it is, make sure it's prepared and delivered without any single-use plastics (use reusable gift paper or containers). 
If a loved one needs something you can't make yourself, consider buying the item used, or regifting. Check thrift stores or Facebook groups to find used items or search through your own belongings to see what's in good enough condition to give away. If you have no choice but to buy brand new, be sure to grab a gift receipt (ideally a virtual one) to give your loved ones—that way, on the off chance your gift isn't quite what they were looking for, it won't sit in a storage cabinet or go to waste. They can return the gift for something they like better that they'll actually use. (And by the way: Opting for an e-receipt over a paper one whenever you can is another super easy way to lessen your carbon footprint.)
Take advantage of reusable packaging
We've all been there: At the end of the holiday season, you find yourself with a stack of crumbled up wrapping paper in your living room and nowhere to put it other than the waste bin. This year, avoid accumulating that pile entirely. Instead, unwrap your gifts gently to avoid tearing the paper, then fold, store, and save it for reuse next year. Even simpler? Give in bags or boxes, and reuse those. You can also re-use newspaper as a unique wrapping paper. It's easy to eliminate the waste this gift-giving season—you just have to get creative.