Zooey Deschanel Has a Magical Backyard Playground, and Parents Want the Scoop
We independently select these products—if you buy from one of our links, we may earn a commission. All prices were accurate at the time of publishing.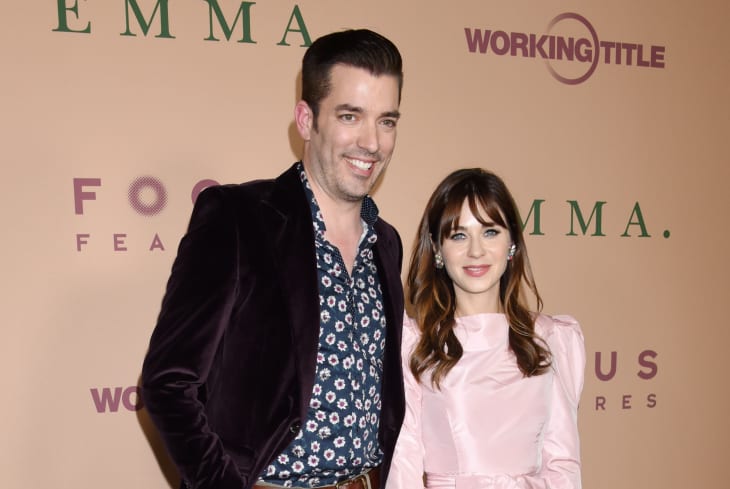 When Zooey Deschanel and Jonathan Scott were discussing their dream home, they found a mutual love for old houses. They closed on a "magical" Georgian-style home in Los Angeles in June 2020, and moved in during February 2022 after almost two years of pandemic delays (celebrities, they're just like us.)
One of the things that drew them to the home, Scott revealed, was the extensive green spaces. As they pulled up, everyone including the kids, — Deschanel is a mom to two kids, Elsie Otter and Charlie Wolf, from her previous relationship with Jacob Pechenik — fell in love with the property.
For more content like this follow
"It sat on a little over an acre, and with its lush lawn and massive California sycamores, it looked like a park. Which is why when we first brought the kids by the property, they dubbed it the Park House," Scott explained in the summer 2022 issue of Drew & Jonathan Reveal. And you know what happens when you name something, whether it's a mangy stray dog or a beautiful home of your dreams? You keep it."
Deschanel and Scott have spent a lot of time renovating their forever home, which needed quite a bit of work. After finally completing the project, they revealed the stunning design to fans.
Outdoors, the couple and their friends can enjoy an outdoor kitchen with a large grill, bar, and seating. Decorated with stunning blue, white and yellow Alesso Deco Marla Matte Porcelain Tiles, the space is fit for many a celebration. A large crystal clear pool completes the patio area, which is the perfect way for all of the family to cool off throughout the long Californian summers.
To help the home live up to its nickname of Park House, the outdoor space also features a giant playground that certainly gives actual parks a run for their money.
Posting a humorous Reel to Instagram, "New Girl" star Deschanel gives a nod to her love for ballet flats — her shoe of choice, certainly in her Jess Day era.
However, it wasn't the actress' shoe dilemma that gained viewer's attention. The playground behind her is the envy of many, with fans commenting on how it is the perfect playground that's sure to entice kids to spend a bunch of time outside. From the clip, it looks as though there's several slides, climbing frames, and a tree house area that will let the youngers' imaginations run wild.
"I'm not even worried about my shoe collection…I need to know about the fort in your back yard and how do I get one," wrote one follower.
"Dude, your playground in the backyard is totally 🔥" commented another.
A third said: "Ima [sic] need a walk through of the playground 😂"
Although the exact playground they have is unknown until Deschanel gives fans a much-anticipated walk-through, there are several just-as-fun play forts you can call your own. They are an investment, but should give your kids a good few years of play.