A Comfy 590-Square-Foot Brooklyn Apartment's Located in an Old Converted Schoolhouse
We
independently
select these products—if you buy from one of our links, we may earn a commission. All prices were accurate at the time of publishing.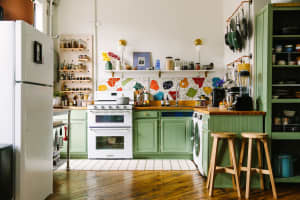 Can't-Miss House Tours Straight to Your Inbox
Keep up with our latest house tours each weekday with our House Tour of the Day newsletter
Name: Bianca Tueretsky, and cat, Cleo
Location: Brooklyn, NY
Type of Home: Apartment
Size: 590 square feet
Years lived in: 12 years, owned
Tell us a little (or a lot) about your home and the people who live there: I live in an old converted schoolhouse in Prospect Heights with a lot of history. (Apparently Clara Bow went to school here over one hundred years ago!) I moved here with my adopted cat Cleo over a decade ago after a hard break up and it sounds strange but this apartment really feels like part of my identity and family at this point. The neighborhood has changed a lot around us, but the people who live in this co-op rarely move out, it's truly a magical place to live. Even though I'm recently married, my husband and stepson are severely allergic to cats, and so I've kept this place as kind of a cat sanctuary and a place where I can go to work, write, and recharge. (Can you tell I'm an introvert?) I feel like when you get married for the first time in your 40s you already have a whole life and home, and I don't know how people just give that up. And of course I could never give up Cleo. I am such a rule follower but once I realized that we don't need to have a conventional life and we can write our own rules, I just felt so much freedom and happiness in my relationship. I know it's a super privileged position to be in, and a foolish financial decision in a crazy expensive city like New York, but for now it works great for all of us.
I am an author, dreamer, and homebody at heart, so I need some place where I'm really comfortable and inspired and can be creative. I wrote a series of YA books, "The Time-Traveling Fashionista," about a girl who travels back in time through an enchanted vintage dress, and my apartment really reflects my love of books, history, vintage pieces, and travel. (Although I've recently gone through and curated my books, as it was getting a little ridiculous and hoarder'y as I find it so hard to get rid of them as they all remind me of different times in my life and I'm convinced I'll want to reread them at some moment.) I have pillows and quilts and small items that I've picked up on my travels over the years that bring back such lovely memories whenever I see them, even though I've come to learn that you can find almost everything in NYC, like the colorful Moroccan tea glasses I carefully cradled through connecting flights which I found at Chelsea Market the following weekend. I also spent my 20s working in the art world for Julian Schnabel so I love to have art and art books around me for inspiration. I learned from him how important it is to create your own world and a beautiful space to live in.
Describe your home's style in 5 words or less: Vintage, light-filled, comfortable
What is your favorite room and why? The apartment is a studio loft, so there are not exactly rooms, but I love spending time reading and writing and watching movies in my sleeping loft. I have my books, a candle, some pillows, and a cozy rug. When I was a kid I always wanted a fort or a clubhouse and it kind of has that secret, protected feeling. Except now I can stay up as late as I want reading.
What's the last thing you bought (or found!) for your home? I reconnected with a childhood swim team friend, Jenelle Patrick, who had recently left her career in fashion and started an interior design business called Doris Gold Designs. The way Jenelle talked about telling a story through interiors really resonated with me as a writer, and so she came in and helped me finally utilize the great bones of the apartment and make the space feel like a home. The initial questionnaire she sent me was so detailed and personal; I knew she would be able to articulate my words through the space, something I had never been able to do myself. She made a lot of great additions. The two things I was most reluctant to implement ended up making the biggest difference in the space: the radiator cover and the custom white linen curtains. I imagined that the curtains would make the space smaller but they ended up emphasizing the scale and ceiling height and drama. It's not a large apartment so the ceilings really make the space feel deceptively big. The radiator cover also doubles as a beautiful piece of furniture and a space for more books and plants. And it's now Cleo's favorite perch in the apartment. Jenelle also added some beautiful rugs that helped break up the open space into separate "rooms," which again made it feel bigger and not smaller.
When my mom downsized to a condo after my dad passed away she was going to get rid of the red chesterfield sofa that I grew up with. It probably cost more to get it transported to Brooklyn than it's worth at this point, but I love having that bit of my childhood home with me. As a kid it was always the "fancy" couch that we never really sat on, so now it's nice to have and not be so precious about it and really use it. It also still has the scratch marks from my first cat Bernard on the sides. Oh my god, I can get nostalgic about anything! My mom also found this embossed old Brooklyn public school doorknob at a flea market, which I imagine could be from around the time when my apartment was still a classroom. It's incredible the detail and work that went into these old fixtures compared to today. Jenelle found a bronze school bell from the '50s in an antique store. These little details tucked into the shelf that probably no one else would really notice bring me so much joy and are little nods to the history of the public school building.
Any advice for creating a home you love? I am a total vintage evangelist. Why buy something new when you can own a piece that's unique with history and character and often for a lot less money? And the treasure hunt is half the fun. Also, bring in your friends to help out. I am lucky that I got to work with a friend like Jenelle who happens to be an extremely talented interior designer, but even if your friends are not professionals they may have great tips that you wouldn't necessarily see. You get blind to your own space after a while. I also love having pieces my friends have created around me. I get so much joy from admiring my friend Doris Josovitz-Farley's beautiful Lost Quarry pottery on my dining table, or seeing books they've written displayed in my bookshelves. It makes me feel connected to a bigger artistic community.