How We Shop for You
We independently select these products—if you buy from one of our links, we may earn a commission. All prices were accurate at the time of publishing.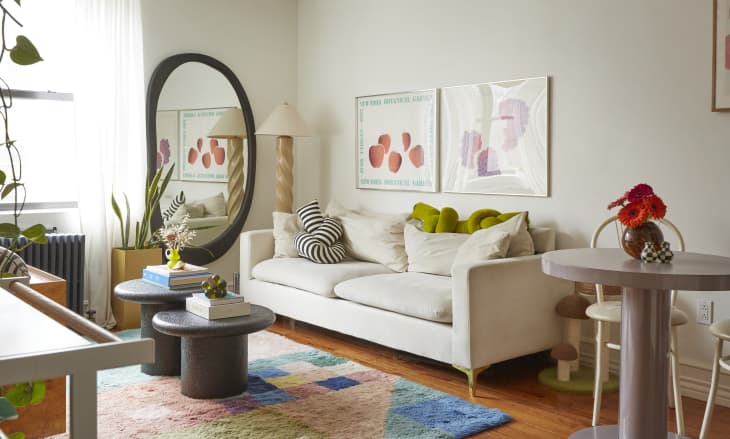 Our goal at Apartment Therapy Media (Apartment Therapy, The Kitchn, Cubby, and Dorm Therapy) is to help you create a home that's happy, healthy, and uniquely your own. A big part of how we do this is by introducing you to the best products and services out there. Our writers and editors put hundreds of them to the test every year to determine which ones get our stamp of approval and are really worth your time and money. If we love it, you're going to hear about it. 

The Commerce Team at Apartment Therapy Media has one mission: to help you make smart and informed purchases. We know how hard online shopping can be — it's literally our job! From trying to decipher confusing marketing lingo to sorting through scores of fake paid reviews in search of some truth, online shopping can be overwhelming. We're dedicated to doing the hard work for you by reviewing these products firsthand and delivering all the information you need, both good and bad.
How We Test Products for Apartment Therapy
As experts in the home and design space, we put products to the test right where they matter: at home. Whether it's the gadget on everyone's wish list or the coolest-looking design finds, we bring these products into our personal spaces and test them for weeks and even months at a time to see how well they live up to their claims. Do those sheets still feel silky smooth after a couple of washes? Does that mattress remain firm or soften up too soon? Are those bath towels really quick drying or do they need an extra spin in the machine? We'll let you know. 
Within each of our reviews, we also break down the different ways that we critique products. In some cases, we're testing products head-to-head on things like price, ease of use, and durability. In others, we're comparing new products to personal favorites or ones we've tested in the past. No matter what, we'll always break down the ins and outs of a product. At the end of the day, we're consumers too, so we'll provide you with all the information we'd want — and then some.
When you shop our articles, we may receive an affiliate commission on some — but not all — of the products we recommend. This, however, does not influence which products our writers and editors choose to feature in stories. We only ever recommend products that we have thoroughly and carefully researched to ensure we provide you with the best of the best. Occasionally, brands and PR agencies will send us products for consideration, but as with any product we put to the test, our reviews of these products remain thorough and unbiased. We never accept a product in exchange for coverage or a positive review. If we're unhappy with a product and don't stand by it, we will not recommend it. 
The Best List is Apartment Therapy's premiere franchise in which our editors put must-have home essentials to the test to find out which ones are truly the best of the best. Here, our staff tests products across a range of categories, from bed and bath essentials to organizers, pet products, and so much more, in search of those worth adding to your home.
Ever dreamed of hiring a personal shopper to help choose investment pieces like sofas, beds, dining tables, and rugs? In this series, our editors visit your favorite stores (think West Elm, Pottery Barn, and Ashley) to test the big-ticket items you might not be able to check out in person. We then break down our recommendations by who or what each item is best suited for so that you can make confident decisions when shopping online.
Whether it's for the holidays or a birthday gift shopping can be an overwhelming experience. But not anymore. The Gift Edit takes the stress out of finding the perfect present by letting you search more than TK editor-curated gift guides by category, theme, occasion, and recipient.
We test a lot of products, and in this monthly series, we round up the game-changing finds our editors swear by, whether it's a favorite organizing solution, kitchen gadget, or family-friendly pick. 
Finding renter-friendly products can be a challenge. In this monthly series, our editors (most of whom are current or former small-space dwellers) share the game-changing products they swear by to make rental life easier, like peel-and-stick wallpaper,  drill-free shelving, and more finds that can help guarantee you get your deposit back.  
Small-space living is an art and in Small-Space Superheroes we help you paint the canvas that is your home with the products our editors rely on to maximize their square footage and practically create more space out of thin air. 
There's nothing better than seeing which of our recommended products truly resonate with our readers. In this monthly series, we share a range of the top products that had you clicking "add to cart."