This Is the Best (and Cheapest) Day to Go Grocery Shopping
We
independently
select these products—if you buy from one of our links, we may earn a commission. All prices were accurate at the time of publishing.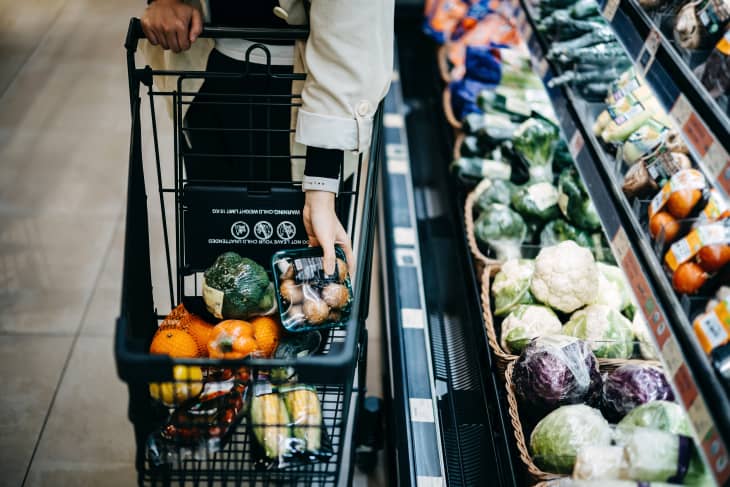 Grocery shopping is one of those essential tasks that's forever on your to-do list. Given that it's an unavoidable chore, why not choose a day when you can not only cross off an item on your list, but also get the best groceries at an ideal price? Finding cheaper ways to fill your cart is especially important as news reports indicate grocery staples are experiencing a more-than-average increase in price from the previous year. 
There is a strategy to buying the best items and saving money, according to registered dietician Steph Grasso, as she shares on her TikTok. If you want to catch the cheapest deals on groceries, the secret is to shop on Wednesdays. 
I talked to registered dietician Emily Woody and nutritionist and meal prep expert Eleesha Lockett to get their insight on why Wednesdays are billed as the all-around best days to shop for groceries — here's what they had to say. 
You may find that the strawberries are red and plump and the spinach is extra green and without signs of wilting on Wednesdays. Lockett says, "Wednesday is an ideal day to grocery shop because it's less likely to be busy, as most people do their shopping on the weekend." 
It's true; I've definitely found that grocery shopping on Wednesdays is ideal because stores are noticeably slower than they are during the weekend rush. I have time to look around and touch the produce to get the best ingredients for my dishes instead of settling for whatever's left.
Fresh stock is delivered on Wednesdays.
If you want to avoid making multiple trips to different grocery stores because your main stop is sold out of something you need, then shopping on Wednesday is a smart move. "Wednesday is typically when stores receive their weekly deliveries of fresh produce, meat, and dairy products. This means that you are more likely to find a wider selection of fresh, high-quality items to choose from," says Woody. 
You may be able to find all your favorite items in one trip and feel better paying a little more because you know they haven't been sitting around for days in the produce section. 
Coupons and specials start midweek.
With food inflation affecting nearly every aisle, it's understandable why so many people are looking for good deals on groceries. Midweek is a great time to capitalize on coupons and specials. "When it comes to weekly sales and coupons, a lot of the larger stores typically begin their midweek sales on Wednesday, which means that you can easily plan for and shop those sales as soon as they come out," says Lockett. 
If you can build your meal plan around a Wednesday restock, you can cash in on those savings. 
Prices are lower on products that may expire soon.
All grocery stores have products that they have to take off the shelf or sell by a certain date. "Reduced prices on soon-to-expired products frequently occur on Wednesdays," explains Woody. "As the week progresses, grocery stores often start to reduce prices on products that are nearing their expiration date. By shopping on Wednesday, you may be able to find some great deals on these items."
Being prepared means saving in the future.
Avoiding takeout or last-minute meal planning can save you some serious money in the long run. Grocery shopping midweek can help you cut down on your overall food expenses, opening up your budget to other costs. 
"Shopping on Wednesday gives you plenty of time to plan meals for the rest of the week based on the items that you find on sale," says Woody. "This can help you save money by creating meals around discounted items and avoid overspending on unplanned purchases."