The Tried-and-True Grocery Shopping Method I Use to Stay on Budget — Even with Food Inflation
We independently select these products—if you buy from one of our links, we may earn a commission. All prices were accurate at the time of publishing.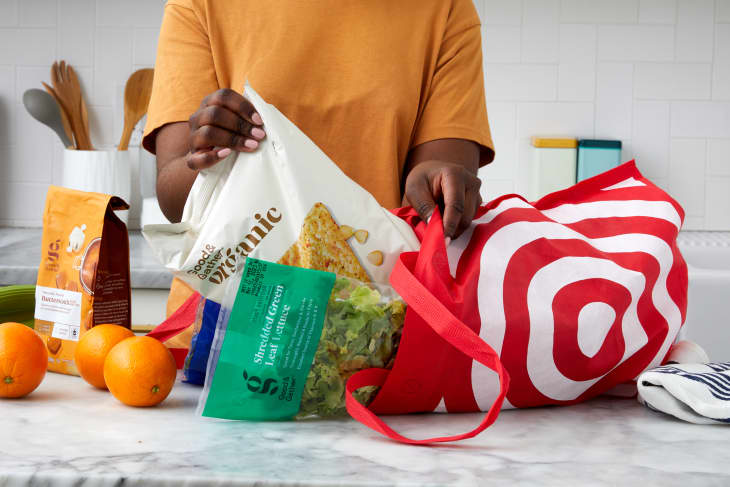 When it comes to grocery shopping, I've got good news and bad news. The good news is that food prices are expected to increase more slowly in 2023 versus 2022. The bad news is, they're still increasing. 
Follow Topics for more like this
Follow for more stories like this
That's why it's more important than ever to save money on my grocery purchases any way I can. One way I plan on doing this? By ordering my groceries online and taking advantage of my favorite grocery store apps. Here's how I use online ordering to save time and stick to my budget. 
Before doing my grocery shopping online, I was never good at clipping coupons. It felt impossible to remember what I needed to get at the store, let alone bring the paper coupons themselves. While you still have the option to use paper coupons at curbside pickup, digital coupons make saving even easier.
The other day on my Kroger app, I was prompted to clip a coupon to save $10 on my next $75 minimum grocery order — an offer I'd never seen in stores. Every week, I order more than $75 for a family of four. All I had to do was click the coupon button and add it to my virtual Kroger account. Even while adding items to my grocery list, I can see if a coupon is available, so I can plan around deals that help combat those inflated prices.
What I love about online grocery ordering is the reminders. I can reference my last grocery order and see what makes sense to repurchase. I just need to sign in, go to my recent purchases, and click on the items I want to order again. My sisters-in-law both love using this option with the Walmart and Meijer shopping apps; it saves time and helps you remember items you might normally overlook.
Ordering groceries online also heightens visibility of your grocery spending before you're already loading your items onto the conveyor belt at checkout. Once my order is complete, I'm prompted with an estimate of what I will be charged and can evaluate my spending before having to pay up. If it's more than I want to spend, I can easily remove items to help me stay on budget. That was never an easy thing to do in-store. Not to mention, buying groceries online has also reduced the temptation to toss items into my cart at the last minute, which definitely can put my grocery order over the limit.
For a mom with two small kids, ordering groceries online and doing curbside pickup has been a huge time-saver. Typically, I work on my order while sitting on the couch snuggled up next to one of my kiddos and watching our favorite show. After selecting my pickup time, I give the retailer a heads-up 15 minutes before I'm there. Once I pull into the parking lot, all I have to do is stay in my car, and the attendants kindly load my groceries in the trunk. The hour I would spend in the store getting groceries for the week goes back into other things I want to do, like writing and spending time with my kids.
Online grocery ordering with curbside pickup calls for such low effort on my part resulting in a big payoff. It has allowed me to save more money and proved super convenient as a busy mom.