7 Simple Hacks for Saving Money While Online Shopping, from 10% Cash Back to Instant Coupons
We independently select these products—if you buy from one of our links, we may earn a commission. All prices were accurate at the time of publishing.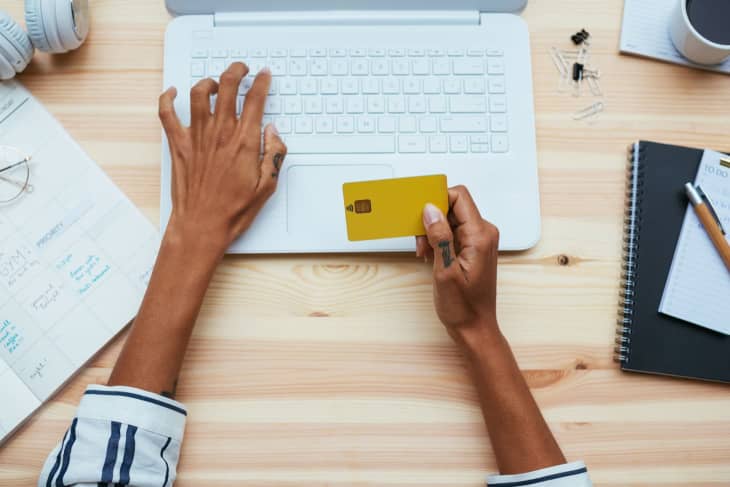 On the somewhat rare occasion where I head out the door to do a big shopping trip, I always find myself missing online shopping. While in-store shopping has its advantages (like trying on clothes before you buy), online shopping is just so easy. On top of that, if you know about all the secret ways to save, your online shopping trips can even be cheaper than your in-store ones. And with holiday shopping just around the corner, who doesn't love the idea of saving some hard-earned cash? Read on for seven ways to save online, and get excited for that feeling of satisfaction when you see your check-out totals get lower and lower. 
Whenever I buy something online, I always do a Google search to see if there are any coupons lingering on the internet. Lucky for me, now that I have Honey, the app does this automatically. After a quick install, the Honey app extension will apply the best discount code it can find once I'm at checkout, saving me a Google search and extra cash. Score! You can also peruse the editor's picks section for sales up to 40 percent off. In addition to coupons, Honey offers cash back shopping and can alert you when there's a price drop on an item you're interested in purchasing. It's free to install, and couldn't be easier to use!
Add To Cart, Then Take a Break
Sometimes it's fun to add things to my cart without really thinking about the price of an item or my budget, just to feel the satisfaction of putting it there. This doesn't mean I buy what's in my cart, in fact, it's the opposite. Leaving your cart full and sleeping on a purchase is a great way to curb impulse spending, and not only that, but sometimes stores will offer you a discount on the items you've abandoned. Be sure you're signed in to the website so the shop can contact you via email with a coupon code, and see what happens! Retailers like Bed, Bath and Beyond, Macy's, and JC Penney will usually send coupons the next day.
There are a few times a year where retailers run big sales — think Prime Day on Amazon, or of course, Black Friday and Cyber Monday. If you're able to be strategic with timing, your patience can pay off. For example, I try to only shop at Sephora when they have their biggest sales of the year — one in the spring, and one for the holiday season. I make a list and stock up on all the things I need when everything is on major sale, so I only need to shop once or twice a year.
Speaking of big sales at Sephora, sale prices are only available to Beauty Insiders, Sephora's reward program. It's a no-brainer to sign up for these programs, since most of them are free to join and you generally don't have to do anything differently to have access to discounts and rewards like free items. Most large retailers have reward programs, such as Target Circle, Nordstrom Nordy Club, and Kohl's Rewards, and these discounts are all available online. 
I had no idea I could basically get paid to shop until I discovered Rakuten and cash-back shopping. Once you sign up, you can find your favorite stores on Rakuten's site, and you'll then be taken to the site of your choosing with cash back activated. Shop as you normally would, and you'll receive a small percentage of cash back, which you can access quarterly via PayPal or a mailed check. Target offers 1 percent cash back, for instance, while CVS shoppers get up to a sweet 10 percent back. If I'm already shopping at Target anyway, why not get a small kickback? 
Let Alexa Tell You When Items Go On Sale
I admit, my Amazon wishlist is expansive and includes everything from sunglasses and cute coffee mugs to furniture and self-care items. To my surprise, one day my Alexa told me an item on my wishlist was on sale. Now that I know my Amazon Echo can do that, if there's something I know I want but I'm not sure about the price, I'll put it on my wishlist and wait. A lot of the time I'll forget about it, and then be pleasantly surprised when Alexa shares a sale notification. Or, over time I'll realize I don't want the item anymore, and will remove it. Either way, I'm saving money!
Stack Coupon Codes, And Do It Strategically 
Not all sites allow you to stack coupons and discount codes, but if you're able to, put more than one in at a time and rake in the savings! If you have multiple codes, be sure to put them in the right order: You'll want to put in your 20 percent off coupon before you put in your $10 coupon, so you can save the most money.